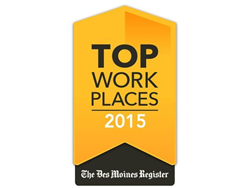 There is a real positive energy here that inspires us to be our best every day.
Urbana, IA (PRWEB) September 14, 2015
Clickstop has been recognized as one of Iowa's Top Workplaces by the Des Moines Register for the third consecutive year. The Urbana-based company landed at #5 in the Small Business category this year. It placed at #2 in the same category last year and #4 in the same category in 2013. The rankings are based completely on employees' opinions from an anonymous survey performed by Workplace Dynamics.
"Our culture is based on exceeding expectations," said Culture Team member, Monica Steffeck. "One of our core values is 'Expect greatness in yourself and inspire it in others.' Recognition with this award for three consecutive years is proof we're living our core values. There is a real positive energy here that inspires us to be our best every day."
The Top Workplaces list recognizes great companies based purely on the opinions of employees through an anonymous survey. The 22-question survey asks employees to assess company fundamentals and organizational health. Employees are asked to give their opinion on the direction of the company, execution of work, leaders' understanding of what's going on, and how they relate to the higher purpose or mission of the organization.
This is the second workplace-focused award Clickstop was honored for in September. Earlier this month, the company was recognized at The Gazette and KCRG-TV9's Business 380 Excellence Awards banquet for its outstanding workplace culture.
"We are excited for the future and the opportunity our company will provide for an even greater number of high performing people," stated Steffeck. "When you have this many people operating in their strengths and heading the same direction, there's no limit to your potential."
About Clickstop, Inc.
Clickstop is the parent company of a suite of online retail stores based in Urbana, Iowa. Focused on offering relevant products, timely delivery, and excellent customer service, Clickstop web properties serve diverse markets that include the moving and cargo control industry, energy efficient insulation products, and home organizing solutions. For more information visit http://www.clickstop.com or watch our film at http://www.clickstop.com/thinking-big.