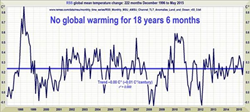 Pay up! - Pacific Islands Development Forum (PIDF) Fiji Times Sept.04, 2015
Calgary, Alberta, Canada (PRWEB) September 15, 2015
Developing nations have their hand out for Green Climate Funding, as reported under the headline "Pay Up!" by the Fiji Times on September 4, 2015 but Friends of Science Society's new report "Who cuts? Who pays?" by energy economist Robert Lyman raises questions about the potential for successful agreement at the upcoming Paris Climate Change (COP-21) Talks in December 2015.
The Green Climate Fund secretariat will be hosted by Korea.
Other developing nations are clamoring for liability compensation for weather disasters which they claim are caused by climate change due to emissions of industrialized nations as reported by the BBC on Sept. 4th, 2015 but Friends of Science point to a long history of weather and climate extremes before fossil fuel use.
The September 8, 2015 edition of GRIST magazine reports on a new paper claiming "you owe $12,000 each" for citizens in Australia and the US, based on the cost accounting 'climate finance' of H. Damon Matthews.
According to the Fiji Times of September 4, 2015, Interim Secretary-General Amena Yauvoli of the Pacific Islands Development Forum (PIDF) said, "Our contribution of greenhouse gases emissions is less than one per cent and while we are contributing less, we are facing the full brunt of climate change."
Canada's contribution of human-caused greenhouse gas emissions is also very low at only 1.8%, despite producing vast quantities of food, fuel and natural resources for the world, as reported In Robert Lyman's "Climate Change Targets for Canada: Examining the Implications."
In that report, it was clear that Canada's economy would be devastated if climate change targets are met. Lyman writes: "The 70% from 2010 and 80% from 2005 targets by 2050 would require unprecedented changes in the Canadian economy and society...(that would) shrink Canada's 'carbon footprint', relative to its economy and population, to levels today seen only in poverty-stricken countries like Haiti, Afghanistan, North Korea and Chad."
In such a case, Friends of Science points out that Canada could no longer contribute to a Green Climate Fund, or provide the vast charitable and foreign aid, disaster relief. If the climate change targets and Green Fund obligations burden Canada too much, Friends of Science forecasts that Canada's Temporary Foreign Worker remittances would also dry up, leaving foreign residents scrambling to make up the $24 billion a year, reported by the Vancouver Sun on July31, 2014. [LINK: vancouversun.com/business/Remittances+billion+year+sent+home+from+Canada/10080290/story.html].
Likewise, many developing nations benefit substantially from Canadian 'snowbirds' who become climate refugees every winter, seeking any warm place for a break from minus 40 Celsius/Fahrenheit and snow.
Friends of Science argue that climate change scientific uncertainty is only increasing over time as the gap widens between climate model (simulation) forecasts of warming, as reported by Forbes Feb. 4, 2014 and the continuing, now 18+ year stagnation in temperatures. Therefore, the Green Climate Fund may not have a future if there is no certifiable scientific evidence to support reasons for its existence.
Lyman's briefing "Who Cuts? Who Pays? – Show me the Money" gives food for thought as these thorny negotiations proceed.
About
Friends of Science Society has spent a decade reviewing a broad spectrum of literature on climate change and have concluded the sun is the main driver of climate change, not carbon dioxide (CO2). Friends of Science welcomes earth, atmospheric and solar scientists, engineers and citizens who challenge the alleged consensus on climate change.
Friends of Science Society
P.O. Box 23167, Mission P.O.
Calgary, Alberta
Canada T2S 3B1
Toll-free Telephone: 1-888-789-9597
Web: friendsofscience.org
E-mail: contact(at)friendsofscience(dot)org