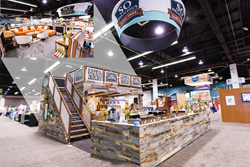 With a number of additional decks being built this past spring Absolute Exhibits can increase your exhibit space no matter what size booth space from 20x20 to 40x60 and beyond
Tustin, CA (PRWEB) September 15, 2015
The Absolute Exhibits' double deck rental inventory has grown to an exceptional level. With a number of additional decks being built this past spring Absolute Exhibits, an exhibit rentals company, can increase your exhibit space no matter what size booth space from 20x20 to 40x60 and beyond. There has been an incredible call for additional exhibit and meeting space and rather than take more floor space or an additional off-floor meeting space, clients have chosen to move up. Thus, having the ability to keep all of their clients and prospects, as well as their sales people in one area. Upper decks can come with meeting rooms, air conditioning, even full kitchens.
As a custom exhibit rental company, Absolute Exhibits has the answer to standing out on the show floor. An extraordinary design that surpasses all other exhibits on the show floor with a rental property that costs far less than a purchased double deck that looks the same year to year. This is really an exhibit idea to consider. Each two story unit is an original design and returns to rental inventory to be re-designed and custom built for the next client. Most are lightweight steel or aluminum. Some units are wood and steel, others are all aluminum. The feeling of privacy and exclusivity that is offered to clients and prospective customers cannot be ignored.
Most exhibitors tend to shrink back when first introduced to a double deck exhibit. Initially feeling it is necessary. Then again, when looking at the overall trade show budget and the opportunity to entertain on show site while possibly removing a smaller trade show from the budget, the double deck exhibit is actually worth the return on investment this show floor scene stealer will create.
About Absolute Exhibits:
A leading exhibition firm, Absolute Exhibits provides clients with turnkey solutions for designing and fabricating exhibits while managing the entire trade show experience as a one-source trade show and convention exhibit resource. Established in 2000, with locations in Southern California, Las Vegas, Orlando, and Bucharest, Romania, Absolute Exhibits rents and sells custom and system exhibits at over 300 shows in the USA and in countries around the world.