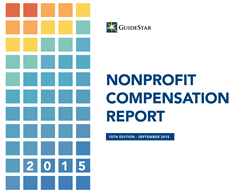 "Only 18 percent of nonprofits with budgets of more than $50 million had female CEOs in 2013," stated Chuck McLean, VP for research at GuideStar
Washington, DC (PRWEB) September 15, 2015
According to the 2015 GuideStar Nonprofit Compensation Report, the overall percentage of female nonprofit CEOs decreased in 2013. The nonprofit gender pay gap, which has been well publicized for over a decade, also persisted.
GuideStar today published the 15th edition of its annual Nonprofit Compensation Report, the only large-scale analysis of its kind based entirely on data reported to the IRS, and the most comprehensive nonprofit compensation study available. GuideStar first reported on the gender pay gap in 2001. That report, the first in the series, found that female nonprofit CEOs earned 21 to 47 percent less than their male counterparts in fiscal years 1998 and 1999, depending on organization size. This year's report shows that the gap narrowed to 6 to 23 percent in FY 2013.
"More women headed nonprofits with budgets greater than $10 million in 2013 compared to 2003," stated Chuck McLean, vice president for research at GuideStar and author of all 15 editions of the report. "These gains, however, were offset by declines in smaller organizations. Even with the gain in larger organizations, only 18 percent of nonprofits with budgets of more than $50 million had female CEOs in 2013."
The report analyzes compensation data reported to the IRS by more than 105,400 nonprofits for fiscal year 2013. It covers more than 154,700 positions falling into 14 job categories. The report presents the data by budget size, gender, mission focus, state, and metropolitan statistical area (MSA).
Other findings from the 2015 report include:

For the fifth consecutive year, compensation increases for incumbents lagged behind their rates before the Great Recession. In 2008, median increases in incumbent CEO compensation were generally 4 percent or higher. In 2013, increases were below this level.
Once again, health and science organizations had the highest overall median salaries. Arts, religion, and animal-related organizations brought up the rear.
For the 10th consecutive year, Washington, DC, had the highest overall median salary of the top 20 MSAs. Median compensation of CEOs was lowest in Atlanta, GA, although CEOs in Oakland, CA, had the lowest purchasing power when adjusted for cost of living.
"The need for accurate, trustworthy, timely nonprofit data is especially acute in the area of nonprofit compensation, particularly CEO compensation," said Jacob Harold, GuideStar's president and CEO. "In the nonprofit sector we have a tricky balance to strike. Perceptions of overpayment erode public trust in the sector—few topics raise the ire of donors, journalists, and legislators as quickly as what they see as excess nonprofit compensation. But we must respect the professionalism of nonprofit leaders. Fair compensation is one reflection of that respect. To navigate this thicket, nonprofits need good data."
To view sample pages or purchase the 2015 GuideStar Nonprofit Compensation Report, please visit GuideStar's website. Members of the media may request a complimentary copy by e-mailing Gabe Cohen at gabe[dot]cohen[at]guidestar[dot]org.
To learn more about nonprofit compensation and the 2015 GuideStar Nonprofit Compensation Report, register for our upcoming webinar "Decoding the Nonprofit Compensation Mystery: Using the GuideStar Nonprofit Compensation Report."
About GuideStar
GuideStar, http://www.guidestar.org, is the largest source of nonprofit information, connecting people and organizations with information on more than 2.0 million IRS-recognized nonprofits. Some 7 million people, including individual donors, nonprofit leaders, grantmakers, government officials, academic researchers, and the media, use GuideStar's data every year to make intelligent decisions about the social sector. A 501(c)(3) nonprofit, GuideStar collects its information from the IRS, directly from nonprofits, and other partners in the nonprofit sector. GuideStar is a participant in the Combined Federal Campaign, CFC #75786.
Media Contact
Gabe Cohen
(202) 637-7609
gabe(dot)cohen(at)guidestar(dot)org