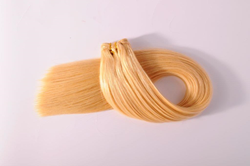 HumHair provides high-quality 7A grade all-natural Remy hair for those wanting the chic New York look.
New York, New York (PRWEB) September 15, 2015
HumHair, New York City-based hair extensions company, today announced the launch of its line of 100% all-natural, Remy hair extensions. A company with over 10 years of experience working within the hair business, HumHair not only provides high-quality products but a lifestyle for those wanting the New York look. The hair extensions are a great solution for for dressing up or down and obtaining any desired look.
Tape-Ins
HumHair Tape-In extensions are made with 7A grade hair, the highest quality human Remy hair on the market. The hair in its natural form is beautiful, strong and luminous. Most will last 6-9 months depending on how much styling and heat is exposed to the hair. However they have the ability to last over 12 months with proper care and maintenance. The extensions provide added length, volume texture, highlights, lowlights and body. HumHair Tape-ins are made with high quality adhesive tape for a strong and discreet hold. The unique adhesive allows for easy integration into hair and appears very thin and unnoticeable.
Clip-Ins
HumHair Clip-in hair extensions are also produced with 7A grade 100% Remy human hair. Naturally blending with your own hair, these extensions feature specifically designed clips that wont damage your own locks. You can treat HumHair extensions like your own whether be washing, blow drying, or using a your favorite hot tools.
Each bag of contains five pieces of hair with clips sewn on to them. The clips make for effortless application with a very strong hold so that extra hair spray or clips are not needed.
14 colorways are available in each type of extension including: Jet Black, Black, Red, Vibrant Red, Mocha Brown, Chocolate Brown, Chestnut Brown, Ash Brown, Ash Brown/Chestnut Brown Ombre, Mix Blonde/Brown, Strawberry Blonde, Ash Blonde Dirty Blonde and Beach Blonde. All extensions are priced from $179-$299 and available for sale directly on the website.
For more information, please visit http://www.humhair.com. Follow the company on the following social platforms:
Facebook: https://www.facebook.com/humhairstyles
Twitter: @humhairstyles
Instragram: @humhair
Pinterest: https://www.pinterest.com/humhairstyles/
About HumHair
Founded in September 2015, HumHair is a premium hair extensions company based in New York City. It sources its hair from vetted manufactures located all across the globe. All hair is 7A grade, all-natural Remy hair.