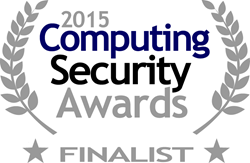 We're thrilled that organizations have such faith in AppGate to not only trust it, but to also have nominated it in the Network Access Control Solution of the Year Awards
Waltham, MA (PRWEB) September 15, 2015
Cryptzone is proud to confirm that AppGate, its integrated security gateway that protects thousands of users every day, has been shortlisted as a finalist in the 'Network Access Control Solution of the Year' award of the Computing Security Awards 2015. Winners of the Computing Security Awards are decided by a public vote open to web users from all over the world.
The Computing Security Awards have been running since 2010, recognizing the solutions and solutions providers who are helping to keep organizations secure. Being shortlisted as a finalist is testament to Cryptzone's commitment to innovation in cyber-security and its aim to deliver superior solutions that make a difference against sophisticated cyber attacks.
"With today's increasingly complex and diverse threat landscape, enterprises need disruptive new solutions that break traditional models and offer dynamic, context-aware access, and can enforce security policies based on an expansive variety of criteria. We're thrilled that organizations have such faith in AppGate to not only trust it, but to also have nominated it in the Network Access Control Solution of the Year Awards," said Kurt Mueffelmann, CEO of Cryptzone said. "AppGate has had phenomenal third party endorsement this year as it was also named a finalist in the SC Awards in both the US and Europe. We look forward to the winner announcement on October 8th."
AppGate is a dynamic, context aware security gateway that prevents unauthorized access. AppGate isolate users and services based on user-specific variables such as location, device and role to protect against unauthorized breaches and achieve operational simplicity
Voting is now open HERE, and will close on the 30th of September. Winners of this year's Computing Security Awards will be announced at an award ceremony to be held at London's Hotel Russell on October 8, 2015.
About Cryptzone
Cryptzone secures the enterprise with dynamic, context aware security solutions that protect critical services, applications and content from internal and external threats. For over a decade, enterprises have turned to Cryptzone to galvanize their Cloud and network security with responsive protection and access intelligence. More than 450 public sector and enterprise customers, including some of the leading names in technology, manufacturing and consumer products trust Cryptzone to keep their data and applications secure. For more information go to http://www.cryptzone.com or follow us @Cryptzone.