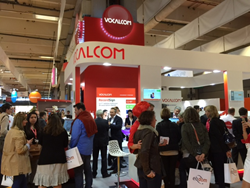 No contracts or infrastructure costs. Pay as you go and scale easily.
Paris (PRWEB UK) 15 September 2015
Vocalcom, a global provider of cloud-based call center software and sales acceleration technology, announced that it has launched Click2Start for the SMB market. The true cloud solution simplifies call center set-up or modernization for small and mid-sized businesses, enabling them to leverage up-to-date solutions without bearing the burden of upfront capital or additional IT investments.
Available for up to thirty users, Click2Start is a compliant, multi-tenant cloud call center that provides all the benefits of enterprise-level call center software without the cost or hassle, meaning businesses can invest their money in further expansion and scale the use of Click2Start to support their growth.
For simplicity, no call center solution comes close to our call center software provided as a Service (SaaS). All that is needed is a computer and an internet connection. Vocalcom Click2Start is fully functional in five minutes and enables home-based and remote agents - so all users log in to the same system, regardless of their geographical location. No phones or hardware required.
With Vocalcom Click2Start, sales and service professionals benefit from a great value customer contact solution, which ensures teams can continually improve performance, win more customers, and deliver a personalized customer service experience all in one place.
A single screen provides rich customer context and insight, guiding the agent through resolution – consistently giving agents valuable customer context and insight – empowering them to engage and support your customers.
With features such as enhanced caller ID, IVR, skills-based routing, CTI screen-pop, virtual hold, call recording, predictive dialing, business analytics and smart automations, winning new customers or making them happy has never been this easy.
Managers can monitor and take action while on the go. On-Screen Caller Info offers immediate insight into customer data and enhances the experience for both customers and agents. Skills-Based Routing gets calls to the right agent. Smart Dialer gives sales more time with live prospects and everything is automatically logged to your CRM. The release also features a new multichannel interface for Salesforce to increase ease of use and agent productivity.
"We are excited to launch Click2Start to help SMBs accelerate their growth and stay ahead of the competition," comments Anthony Dinis, CEO of Vocalcom. "Vocalcom Click2Start offers call center solutions that have been purpose-built to bring you the simplicity and operational advantages of the cloud. Click2Start is opening up a wide range of possibilities and options for small and mid-sized organizations that do not have big budgets to invest or the staff to support it. Our solution will help both sales and service teams get the most out of their time and think big even if they're just getting started."
About Vocalcom
Vocalcom is a global provider of cloud technology which helps businesses win more customers, serve better, and grow faster. With more than 3,600 customers in 47 countries, Vocalcom is one of the foremost players in cloud contact center software, omnichannel customer experience, and sales acceleration technology.