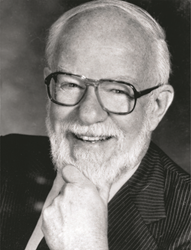 Dr. Bob devoted his life to adult literacy and will be remembered for his many contributions over the past 80 years.
Syracuse, NY (PRWEB) September 15, 2015
ProLiteracy announced today that a pioneer in adult literacy education and New Readers Press founder, Dr. Robert S. Laubach (Dr. Bob) passed away peacefully on Friday, September 11 at the age of 96.
Kevin Morgan, president and CEO of ProLiteracy commented, "It is with great sadness that we announce today the passing of Dr. Bob – we will all miss him greatly. Dr. Bob devoted his life to adult literacy and will be remembered for his many contributions over the past 80 years. His legacy will live on in the weekly newspaper for adult learners, News for You, as well as the other adult education content he helped pioneer."
After enrolling at Syracuse University in the early 1950s, Dr. Bob developed a new course, "Writing for New Literates," and began teaching it at Syracuse University's School of Journalism. He later founded the Syracuse University Literacy Journalism program, and taught hundreds of educators from 40 countries how to prepare literacy materials.
Dr. Bob and his late father Dr. Frank C. Laubach are credited with teaching more than 100 million adults to read and write in more than 200 languages. Dr. Bob helped his father after Laubach Literacy Inc., was founded in 1955 in Syracuse, NY. Laubach Literacy became one of the founding organizations of ProLiteracy Worldwide in 2002. Dr. Bob developed literacy primers in local languages and organized literacy programs in more than 60 countries. In 1959, Dr. Bob began publishing News for You, a weekly news source for adult new readers, still in publication today. Just a few years later, he founded New Readers Press, the publishing arm of ProLiteracy, which develops and publishes instructional materials for adult learners and adult education teachers. Today, New Readers Press has over 400 educational titles that help adults learn how to read, write, and do basic math.
Dr. Bob's legacy of literacy will live on through the thousands of literacy organizations, tutors, trainers, volunteers, and students who continue to work toward his dream of a world where everyone can read and write.
Dr. Bob's family asks that in lieu of flowers, donations may be made to ProLiteracy Worldwide at 104 Marcellus Street, Syracuse, NY 13204, or online at http://www.proliteracy.org/give/donate-now.
###
About ProLiteracy
ProLiteracy believes every adult has the right to literacy. ProLiteracy, the largest adult literacy and basic education membership organization in the nation, is committed to creating a world in which all adults are literate. ProLiteracy has 1,000 member programs in all 50 states and the District of Columbia and works with 52 nongovernmental organizations in 34 developing countries. For more information about ProLiteracy, please visit http://www.proliteracy.org.
Additional Information
The U.S. loses billions of dollars every year because of low productivity in the workforce, high unemployment rates, Medicaid costs, the cost of food stamps, and expenses associated with providing subsidized housing. Millions of adults living in the U.S. struggle with basic literacy skills. In the U.S., 14 percent of adults over 16 read below a fifth grade level, and 29 percent read at only an eighth grade level. Among those with the lowest literacy rates, 43 percent live in poverty.