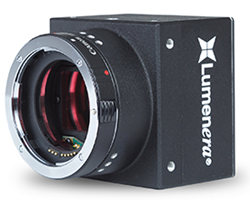 Ottawa, ON (PRWEB) September 16, 2015
Lumenera Corporation, a leading manufacturer and developer of high performance digital cameras and custom imaging solutions, announced today the release of the company's new high performance USB 3.0 camera, built with leading edge ON Semiconductor KAI-16070 sensor technology, which delivers a powerful combination of high resolution, high sensitivity, high dynamic range and low noise results.
The Lt16059H is Lumenera's latest USB 3.0 CCD camera that draws the most performance from the 35mm CCD KAI-16070 4-tap sensor from ON Semiconductor. The sensor supports a global electronic shutter that captures high quality, high-speed images with virtually zero image blur and reliably delivers full resolution frames at the maximum achievable speed of 12 fps (The standard max frame rate for the KAI-16070 is 8 fps). Lumenera's team of development experts was able to extract the most out of the KAI-16070 sensor, achieving the highest possible frame rate along with the high dynamic range and low read noise levels required for high-end applications.
The robust design of this camera and Lumenera's industry leading 4-year warranty ensures reliable performance and delivery of quality images over the lifetime of the camera. With 7.4 um pixel size, the Lt16059H is ideal for applications where high resolution and sensitivity are critical, such as: traffic applications, UAV / aerial surveillance, high-speed inspection, biometrics, pathology, documentation and NIR applications.
"Lumenera has optimized the output of ON Semiconductor's KAI-16070 sensor and is the only camera manufacturer able to provide the highest possible frame rate that can be achieved with this sensor," states Eric Ramsden, Product Manager of Lumenera. "The new Lt16059H camera, built for reliability and ease of integration with Canon EF focus and iris lens control, offers customers a high performance, high resolution, high sensitivity, low noise imaging solution for even the most demanding of industrial applications. The feedback from customer trials has been excellent and we expect this camera to enable our customers to excel with their initiatives."
The Lt16059H is available in color and monochrome and is now available to order. For more information on the Lt16059H, please visit: http://www.lumenera.com/usb3/Lt16059H.php
About Lumenera: Lumenera Corporation, a division of Roper Technologies Inc., and headquartered in Ottawa, Canada, is a leading developer and manufacturer of high performance digital cameras and custom imaging solutions. Lumenera cameras are used worldwide in a diverse range of industrial, scientific, security and astronomy applications.
Lumenera solutions provide unique combinations of speed, resolution and sensitivity in order to satisfy the most demanding digital imaging requirements. Lumenera customers achieve the benefit of superior price to performance ratios and faster time to market with the company's commitment to high quality, cost effective product solutions. For further information about Lumenera, please visit http://www.lumenera.com or call 613-736-4077. To receive Lumenera press releases as they are issued, contact us at marketing(at)lumenera(dot)com.
###