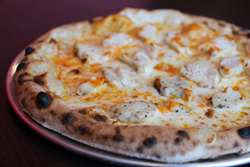 Delicious hand- tossed Neapolitan Pizza ready in just two minutes!
Arlington, Virginia (PRWEB) September 28, 2015
1000 Degrees Neapolitan Pizzeria, a New Jersey based fast-casual pizzeria concept, has a unique spin on Authentic, Hand-tossed Neapolitan Pizza and it's catching on like wildfire. On the heels of very successful restaurant openings throughout throughout New Jersey, Arlington, Virginia is set to be the second franchised location to open in the state of Virginia, shortly after the Virginia Tech restaurant is opened in Blacksburg.
Located in Penrose Square, a stunning urban location in the heart of Arlington, Virginia. Penrose Square currently has a Chipotle, Shake Shack, and 1000 Degrees Pizzeria signed. Also, in negotiation is a high-end hair and nail salon as well as other service/fitness retailers. With oven temperatures over 1000 degrees, fresh, thin and crispy Neapolitan Pizza fused with a "create your own" spin, fired to perfection in just two minutes, is projected to open in mid February 2016.
1000 Degrees is extremely excited to continue development across the state of Virginia, and bring the residents of Arlington the finest authentic, hand-tossed Neapolitan Pizza they have ever tasted along with fire roasted wings, fantastic menu or build you own salads, shakes and soft serve gelato. Guests will be able to walk down the assembly line, choose from over 50 toppings to build their perfect pizza, and by the time they pay and get a beverage, the pizzas are finished. The pizza will be thin, crispy, and have one of the most flavorful crusts you will have ever eaten, made from real Tipo 00 Flour," said Karly Sanko, public relations representative for 1000 Degrees Neapolitan Pizzeria, a New Jersey based fast casual pizza franchise. "With a true two minute cook time, thousands of possible combinations of the finest cheeses & meats, as well as the freshest veggies available, 1000 Degrees is becoming an every-day pizza spot, serving just about 50% of patrons at lunch and 50% at dinner," she added.
The brand recently introduced both "classic" and "build-your-own" salad options which have quickly become a staple of the restaurants' daily lunch service. 1000 Degrees Neapolitan Pizzeria offers patrons the ability to order a fantastic Italian classics such as the traditional Margherita Pizza, or having the option to build completely custom and unique pizzas or salads on every visit, this gives the 1000 Degrees brand a unique advantage over traditional pizzerias. The new, extremely flavorful "Neapolitan Fire Roasted Wings" are never fried and cooked in the Neapolitan Oven in just about four minutes and are tossed with a choice of four exciting sauces.
About 1000 Degrees Neapolitan Pizzeria: 1000 Degrees Neapolitan pizza franchise has experienced unparalleled growth as of late 2015, and is on target to have over 80 units open by the end of 2016, and over 150 units projected by 2017. The 1000 Degrees Pizza brand has experienced tremendous growth over the past 12 months, and continues to focus on having the finest hand-tossed Neapolitan pizza and the best customer experience in each market in which they enter. For more information on the 1000 Degrees Pizza brand, or for franchise or investor relations, please visit the company website at http://www.1000DegreesPizza.com.