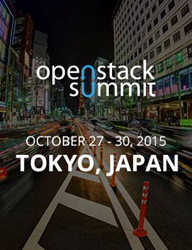 This Summit will focus on OpenStack as an integration engine for new cloud computing technologies, with container management, public clouds and networking technologies taking the spotlight.
Austin, TX (PRWEB) September 16, 2015
Speakers from Bitnami, SKT, NEC, GMO, NTT and Fujitsu will anchor the 12th gathering of the open source cloud computing infrastructure community, OpenStack®. Held twice annually, the next OpenStack Summit will take place in Tokyo, October 27-30, 2015, at the Grand Prince International Convention Center & Hotels.
The four-day event brings together users, developers, telco/service provider visionaries and enterprise CIOs to collaborate on the future of the cloud computing.
This Summit will focus on OpenStack as an integration engine for new cloud computing technologies, with container management, public clouds and networking technologies taking the spotlight. The official schedule for the Tokyo Summit is now online.
The event theme is "OpenStack-Powered Planet," highlighting the power of a global network of public and private clouds running a common and interoperable set of core services. Keynotes and breakout sessions will spotlight new entrants in the APAC market and underscore the community's progress on cloud interoperability and identity federation, while exploring how the OpenStack Powered Planet helps the application ecosystem and next-level users. Breakout sessions will dive deeper into software-defined networking—including progress on the OpenStack Neutron project—next generation telco networks, and emerging markets like Network Functions Virtualization (NFV) and Internet of Everything (IoE).
OpenStack users who will share their case studies and best practices include Amadeus, AppFormix, CERN, City Network, Comcast, Deutsche Telekom, eBay, GMO Internet, Huawei, Intel, Lithium Technologies, Kirin, NTT, PayPal, SKT, TubeMogul, WalmartLabs, Workday and Yahoo! Additional sessions will be announced in the weeks to come, including more user keynotes, full- and half-day sponsored breakout sessions and the demo theater.
About the Summit
The Summit is a four-day conference for OpenStack contributors, enterprise users, service providers, application developers and ecosystem members. Attendees can expect visionary keynote speakers, in-depth breakout sessions, hands-on workshops, collaborative design sessions and lots of networking. Keynote sessions will take place Tuesday and Wednesday, and the main conference and expo will run Tuesday through Thursday. Developer working sessions to determine the roadmap for Mitaka, the 13th release of OpenStack software (expected in April 2016) will take place Tuesday through Friday.
The most recent installment of the twice-annual Summit was held in May, in Vancouver, British Columbia, and drew more than 6,000 participants. A video recap of the Vancouver summit and session videos and slides demonstrate the depth of user engagement and energy surrounding the community.
OpenStack Momentum Strong Throughout APAC Region
The upcoming Summit marks the first time the OpenStack Summit has convened in Japan and the second time the Summit has been held in the APAC region, the first being the November 2013 Summit in Hong Kong. The event is expected to draw thousands of participants.
The APAC region is home to 18 OpenStack user groups that host thriving community events. In February, OpenStack Days Japan doubled in size from its 2014 gathering, and OpenStack Day Korea was a sell-out. Last month, attendance was up by 150 percent at OpenStack Day India, and 1,700 people participated in OpenStack Day Taiwan, where more than 200 companies have started proof-of-concept projects or are building dedicated OpenStack teams. China, which has long been a leading contributor to the project, boasts numerous large-scale deployments, including multiple Internet vendors who use OpenStack on a daily basis to support hundreds of millions of customers.
Event Resources
Registration is open, with "Full Access" passes available until October 19. These passes allow access to all areas of the Summit—including keynotes, Marketplace Expo Hall, breakout sessions, developer and operator working sessions, and more—and include lunch. Register early to save, as prices will increase September 29. A limited number of discounted passes are available for students and government employees. Consult this form for more information and apply by September 25.
About OpenStack®
OpenStack® is the most widely deployed open source software for building clouds. Enterprises use OpenStack to support rapid deployment of new products, reduce costs and improve internal systems. Service providers use OpenStack to give customers reliable, easily accessible cloud infrastructure resources, supporting technologies including VMs, bare metal and containers. OpenStack powers clouds for many of the world's largest brands, including AT&T, Bloomberg, Cisco Webex, Disney, Fidelity and Walmart. More than 530 companies and 30,000 individuals across 172 countries are supporters of the project.
Member of the media can email summit(at)openstack(dot)org for more information about media passes. If you would like to receive news updates from the OpenStack Foundation, please sign up at http://www.openstack.org/news/signup.