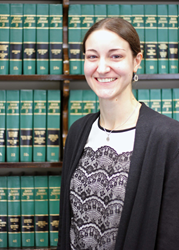 Wethersfield, Connectciut (PRWEB) September 17, 2015
The Wethersfield and Southington law firm Jackson O'Keefe, LLP, is pleased to announce that Allison L. Baxter has joined the firm as an Associate. Attorney Baxter will work with practice groups in both the Wethersfield and Southington offices of Jackson O'Keefe, practicing in the areas of personal injury and litigation, and general practice, including family law and divorce, estate planning and real estate.
Prior to joining the firm, Attorney Baxter served as a law clerk at the Connecticut Appellate Court, where she clerked for former Connecticut Supreme Court Justice Flemming L. Norcott and Appellate Court Judge Joseph P. Flynn.
Attorney Baxter earned her J.D., magna cum laude, from Hofstra University School of Law. During her time at Hofstra, she was a Member and Associate Editor of the Hofstra Law Review. Prior to obtaining her law degree, Ms. Baxter was an intern for the Honorable Vanessa L. Bryant of the Federal District Court for the District of Connecticut. Her internships also included work with the Connecticut Attorney General's office, Child Protection Department; the ABA Center on Children and the Law & Commission on Youth at Risk; and, the Center for Children's Advocacy. She earned her undergraduate degree from Colby College in Waterville, Maine, summa cum laude, in 2011. She is a member of the Connecticut State Bar.
About Jackson O'Keefe, LLP
The firm has deep roots in the Connecticut legal, political and business communities and a long tradition of vigorous trial and appellate advocacy on behalf of its clients. Since the 1950s a majority of the firm's practice had been in the insurance defense field, working on behalf of the insureds of major insurance companies. The firm was co-founded by Jay W. Jackson (retired), a former Insurance Commissioner for the State of Connecticut. Andrew J. O'Keefe (retired), the other co-founder, lived in Wethersfield for many years and has served as a preeminent trial litigator, while also serving as a general practitioner and appellate litigator. As a part of its history of insurance litigation, the firm has developed a deep knowledge and breadth of experience in car accident law, other bodily injury claims and wrongful death actions.
Over the years, the Jackson O'Keefe's general practice has grown to a larger role. The firm offers a full range of legal services to individuals and business entities with diverse interests and objectives and takes pride in its reputation for providing cost-effective representation of the highest caliber. Our goal is to assist clients in finding practical and appropriate solutions to the situations they face, in a timely and responsive manner. Divorce, child custody, estate planning, real estate transactions, commercial disputes, and personal injury and accident law are just some of the areas in which the firm achieves its clients' objectives.
The firm has received the highest Martindale-Hubbell peer-review rating of "AV." It is also recognized in the Bar Register of Preeminent Attorneys. Additionally, several of our partners have been peer-reviewed by Thomson Reuters as "Super Lawyers," qualifying as among the top five percent of practicing attorneys in Connecticut. We are also active participants in Defense Research Institute (DRI) and the Claims and Litigation Management (CLM) Alliance.
The law firm's main offices are located at 97 North Main Street, in Southington, Connecticut 06489; and, 433 Silas Deane Highway, Wethersfield, Connecticut 06109. Partner Matthew J. O'Keefe, manages the Southington office. Managing Partner Peter K. O'Keefe manages the Wethersfield office.