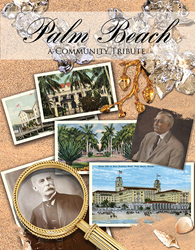 "Many dream of making a difference...Palm Beachers have made it a skill." Olympia Devine
Palm Beach, Florida (PRWEB) September 29, 2015
The unique history of the Town of Palm Beach and the philanthropy of its most distinguished residents has been produced by one of its own, offering a perspective into the inspiration and the commitment to community that Palm Beachers have given for over 100 years.
The new chronicle of Palm Beach is now completed and available at several area book stores. Palm Beach: A Community Tribute, documents the history of the Town of Palm Beach and the philanthropy of its people. It features photographers, community notables, charities and organizations.
The book's authors, Olympia Devine and her son, the late Troy Alexander Devine make note that it was written by the community for the community. It is dedicated to all Palm Beach photographers who have documented the town and to Troy Alexander Devine, who was the creative innovator and art director.
Ms. Devine's son, who worked closely with the Town of Palm Beach and the Palm Beach Centennial Commission on the town's 2011 centennial celebrations - as well as the book, passed away at the age of 33, before the book was published. He captured the essence of the town by saying, "Footsteps through the halls of history echo glorious memories of a hundred years . . . follow the path, listen to the voices and appreciate the gracious beauty of the Palm Beach spirit."
In addition to the first 100 years of town history, Palm Beach: A Community Tribute includes chapters on its architects, historical places of interest, the Palm Beach Centennial, the town today and the charm of this legendary resort and how its people play today. Visual contributions from Tallahassee's Florida Memory Photographic Archives, as well as notable Palm Beach photographers: Lucien Capehart, Robert Davidoff and Mort Kaye make this book "a work of art."
Edited by Laurel Baker, Executive Director for The Palm Beach Chamber of Commerce, the book includes contributions from: John Blades, Executive Director of The Flagler Museum; Jay Boodheshwar, Deputy Town Manager, The Town of Palm Beach; The Honorable Mayor Gail L. Coniglio and Palm Beach Daily News Writer Darrell Hofheinz.
The book is now available at the following Palm Beach locations: Classic Bookshop, News & Gourmet at The Breakers, the Par Three Golf Course, The Flagler Museum gift shop and the Members Only Mar-A-Lago Club. It is also available on http://www.Amazon.com and http://www.Barnesandnoble.com
For more information: http://www.thepalmbeachfoundation.org, or http://www.goldenlionpublishing.com, or by calling DevinePR 561.653.1600 ###