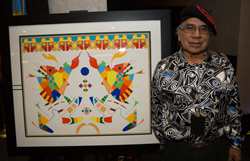 TULSA, Okla. (PRWEB) September 15, 2015
Ten years after starting as a small art show in the parking lot of what was then Cherokee Casino Resort, the Cherokee Art Market has grown into one of the finest Native American art markets in the country.
The Oct. 10-11 event features 150 elite Native American artists from across the nation. Hours are 10 a.m. to 5 p.m. in the Sequoyah Convention Center at Hard Rock Hotel & Casino Tulsa. Admission is $5 per person.
More than 50 tribes are represented at the annual event that features artwork available for purchase. Pieces include beadwork, pottery, painting, basketry, sculptures and textiles. Guests can also enjoy a variety of cultural and art demonstrations.
"Year in and year out, the Cherokee Art Market has proven to be one of the most prestigious Indian art shows in the country," said Cherokee Nation Principal Chief Bill John Baker. "Every year our market continues to grow bigger and better. The Cherokee Art Market is a second-to-none showcase featuring world-class artisans in a variety of mediums."
As part of the two-day event, there will be cultural demonstrations open to the public from 11 a.m. to 4 p.m. each day. Cultural demonstrations include jewelry, stamp work technique, katsina doll making, pottery, painting, basket weaving and music.
An opening reception will be held in The Sky Room on Friday, Oct. 9, at 7 p.m. to welcome the Cherokee Art Market artists and guests. The artists will compete for $75,000 in overall prize money awarded across 22 categories. The public is welcome to attend the awards reception for $25 per person. Tickets will be available for purchase at the door.
"Best of Show" for the ninth Cherokee Art Market went to Absentee Shawnee and Seminole artist Benjamin Harjo Jr. for his painting "Ahead of Their Time."
As part of the 10th anniversary celebration, Arts & Humanities Council of Tulsa is hosting "Cherokee Art Market: A Retrospective" at the Hardesty Arts Center thru Nov. 1. The exhibit will feature several of the art market's "Best of Show" winners from the past decade.
AHHA is located at 101 E. Archer St. For more information on the exhibit, visit http://www.ahhatulsa.org.
For more information about the Cherokee Art Market, visit http://www.cherokeeartmarket.com.
Hard Rock Hotel & Casino Tulsa is located off Interstate 44 at exit 240. For more information, visit http://www.hardrockcasinotulsa.com or call (800) 760-6700.