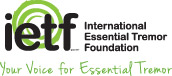 Lenexa, KS (PRWEB) September 24, 2015
The International Essential Tremor Foundation (IETF) is pleased to announce proposals are now being accepted from researchers whose investigation addresses the nosology, etiology, pathogenesis, treatment or other topics relevant to essential tremor (ET). The submission deadline for proposals is February 28, 2016. The announcement of the award will take place on June 1, 2016 with the funding period to begin July 1, 2016.
The aim of this grant is to stimulate inquiry into this poorly understood clinical disorder and to provide support to projects that are innovative and give promise of receiving more substantial support from NIH and/or other sources if sufficient preliminary information can be obtained from projects supported by the IETF.
Concise, clearly written, hypothesis-driven proposals have the best chance of being funded. The scope of the proposal should be appropriate for a one-year funding period with the possibility of being renewed for a second year. Additional project support beyond the first year of funding requires a second proposal and explanation for additional funding, to be reviewed in competition with all proposals submitted during that funding cycle. In general, each IETF research grant award will not exceed $25,000. There will be three grant proposals awarded this grant cycle. Institutional indirect costs will not be provided.
The Grant Guideline, Application, and Conflict of Interest Policy and Questionnaire can be obtained by downloading it from the IETF website at essentialtremor.org/research or emailing your request to Executive Director Patrick McCartney at pmccartney(at)essentialtremor(dot)org.
All completed applications and the conflict of interest policy questionnaire must be submitted in one file electronically to pmccartney(at)essentialtremor(dot)org. Hard copy submissions and multiple electronic folders and files will not be accepted.
About The International Essential Tremor Foundation:
Headquartered in Lenexa, KS, and founded in 1988, the International Essential Tremor Foundation is the leading organization in the world dedicated to those affected by essential tremor. The mission of the IETF is to fund research that will find the cause of essential tremor and lead to better treatments and a cure, increase awareness about ET, and provide educational materials, tools and support to healthcare providers, the public, and those directly affected by ET.
The IETF has distributed more than $830,000 in research grants, to fund 33 promising studies, in the search for the cause of ET. The Foundation has hosted numerous community awareness events across the U.S. to provide those affected with the basic knowledge necessary to become their own advocate when seeking treatment. And, the IETF also provides assistance to a vast network of support groups around the world. To learn more about essential tremor and the IETF mission, visit the IETF website at http://www.essentialtremor.org.