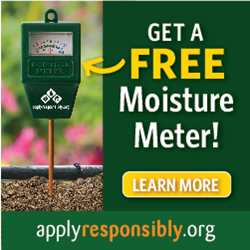 One of the hidden benefits of water conservation is that it not only saves water but helps reduce runoff
Sacramento, Calif (PRWEB) September 16, 2015
Apply Responsibly launched its summer campaign today to educate California gardeners and homeowners of the important role they play in conserving water, and how those efforts also protects the state's waterways by keeping lawn and garden pesticides on target sites, according to officials for the stewardship program.
"One of the hidden benefits of water conservation is that it not only saves water but helps reduce runoff that can carry home use pesticides from lawns, gardens and driveways into urban rivers, streams and creeks," said Ann Orth, a spokesperson for the Apply Responsibly program.
This summer's Apply Responsibly campaign offers an updated online water-wise quiz for website visitors to take. Californians who pass the quiz will receive a free moisture meter to help gardeners use the proper amounts of water for plants.
"The moisture meter serves as a useful tool and visible reminder of the link between water conservation and environmental stewardship," said Orth. "We're reaching Californians through many different mediums, including transit ads, radio spots, our social media presence and partnerships."
Since 2008, Apply Responsibly has reached millions of California gardeners and homeowners to provide information and tips about the proper use of pesticides, which includes the handling, storage and disposal of pesticides.
Apply Responsibly reinforces many existing guidelines and established practices, including recommendations that consumers:

Don't overwater
Only water on designated days
Limit watering to what is allowed by local water districts
Don't allow water runoff onto concrete or other hard surfaces, and avoid water runoff into gutters, in-lawn drains or storm drain when watering areas treated with pesticides
Always read the label before applying any pesticide product
Avoid stockpiling pesticides; buy only enough for one season
Don't treat entire driveways, patios, sidewalks or similar outdoor surfaces
Use, store and dispose of unused pesticides according to the instructions on the product label
Dispose of unused pesticides according to the instructions on the product label
In addition to raising awareness about pesticides in general, the program also seeks to educate homeowners and gardeners about pyrethroid pesticides, which are used to control a wide range of insects that can infest gardens and enter homes.
"Just like any pesticide product, pyrethroids must be handled properly," said Orth. "Pyrethroid pesticide products help control unwanted insects found in the home and in public areas that can spread disease and threaten plants, home and health."
Pyrethroid pesticide products, she said, are widely used by consumers as an effective and trusted way to control insects such as mosquitoes, bedbugs, termites, caterpillars, ants, spiders, wasps, cockroaches, aphids and other insects.
Apply Responsibly provides a wide range of resources for consumers who want to learn more about integrated pest management, pest prevention and general gardening. The program also provides helpful tips and best practices for using water wisely in our yards and gardens. Visit http://www.ApplyResponsibly.org to learn more and to take the quiz.
# # #
ABOUT
"Apply Responsibly" is a public awareness program funded by the Pyrethroid Working Group and conducted in consultation with the California Department of Pesticide Regulation. Through http://www.applyresponsibly.org and other educational materials, the industry alliance promotes the responsible use, storage and disposal of pesticides commonly used in the garden and outside home as a way to help protect California's water and environment. The Pyrethroid Working Group is comprised of following companies: AMVAC Chemical; BASF Corporation; Bayer CropScience; FMC Corporation; Syngenta Crop Protection; and Valent/MGK BioSciences Corporation.