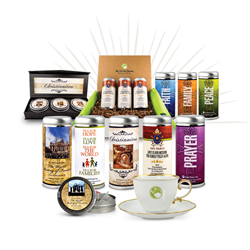 We are proud to offer a souvenir item that is not only elegant, useful and delicious, but it can serve as a keepsake of this historic occasion for years to come. -- Donna MCCafferty
Philadelphia, PA (PRWEB) September 16, 2015
The Tea Can Company (TTCC), a purveyor of gourmet teas in a variety of flavor blends, announced the launch of its new product line – Christiani-tea - designed and packaged to commemorate The World Meeting of Families and Pope Francis's visit to the United States later this month. For each of the limited edition tea tins sold at $10.99, the Tea Can Company will donate a dollar to Pearl S. Buck International "to help children around the world."
The specialty line of teas is available online through The Tea Can Company's website http://www.TheTeaCanCompany.com and in many gift boutiques and tourist shops located in and around the cities Pope Francis will be visiting later this month. Packaging design themes include the Vatican, World Meeting of Families, faith, love, peace, family and prayer.
Donna McCafferty, founder of The Tea Can Company, is proud to offer this creative and inspiring line of teas. "We offer the highest quality teas from around the world and since we know that Pope Francis is a tea drinker, we thought it would be a perfect opportunity to blend some specialty teas in honor of his historic trip to the United States." McCafferty continues, "We are proud to offer a souvenir item that is not only elegant, useful and delicious, but it can serve as a keepsake of this historic occasion for years to come."
Founded in 2011, The Tea Can Company sells forty flavors of tea, available in a variety of packaging ranging from stylish tins to elegant organza bags. The tea flavors include many favorites such as Serene Herbal, Breakfast Blend, Sencha Green, Raspberry Oolong, Moroccan Mint, Lemon Classic, Tahitian Vanilla, Apricot and Peach Tea, Mango Amazon, Holy Detox, and Rooibos Chai tea, in sachet form. All flavors are online at [https://www.theteacancompany.com/our_tea.
In addition to offering the highest quality tea sachets, TTCC offers customers several choices for their label design. Customers can choose from among several templates available on the TTCC website, upload a photo or personal design of their own, or work with the creative team at TTCC to develop a custom design for them.
The Tea Can Company products are perfect for holiday gifts and also make unique favors for weddings, family events, corporate functions, and fundraisers.
About The Tea Can Company:
The Tea Can Company, founded in 2011, sells high quality teas in packaging such as large tea tins, mini tins, kraft bags, tie bags and organza bags at various price points to fit any budget. The company began as a class project when Donna McCafferty was an art student at Kutztown University, in the 1980's. Today, TTCC products are designed and packaged for use as unique personal and corporate gifts, souvenirs, and bridal favors.
TTCC is selling teas in college bookstores under the "Universi-tea" label. They also have a fundraising program which allows non-profits such as schools, churches, breast cancer and lupus organizations and others to sell The Tea Can Company products as a way to help raise funds to support their missions. To learn more visit: http://www.TheTeaCanCompany.com.