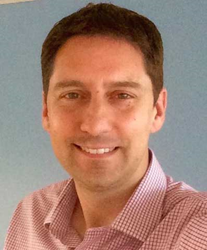 "We found the needle in the haystack with Dan... His frontline experience and expertise will be a huge asset to our core business; I expect great things from Dan and our clients can too," said Jack Phillips, IIA CEO
Portland, Oregon (PRWEB) September 17, 2015
The International Institute for Analytics (IIA) has named Daniel Magestro, Ph.D., as its Vice President and Director of Research. An accomplished analytics executive with experience in healthcare, banking and insurance, Magestro will join IIA's leadership team and oversee the continued growth of the research and advisory firm's research services. In his role, Magestro will manage a robust research agenda built around the needs of IIA's research clients, lead IIA's extensive network of faculty experts, and interface with IIA's global community of analytics practitioners.
"We found the needle in the haystack with Dan and are delighted to welcome him to the executive team at IIA. His frontline experience and expertise will be a huge asset to our core business; I expect great things from Dan and our clients can too," said Jack Phillips, IIA Co-Founder and CEO.
Magestro brings over 15 years of experience practicing and leading analytics in various industries and settings, most recently in healthcare. Prior to joining IIA, he managed multiple analytics teams at Cardinal Health in Columbus, Ohio, where he led analytics strategy and built an analytics center of excellence to serve the company's large Pharmaceutical Division.
Magestro also held analytics roles at JP Morgan Chase, Nationwide Insurance, and Investor Analytics. And since 2010, he has served as an Adjunct Professor at Ohio State University's Fisher College of Business, where he teaches courses on data analysis and advises the university on analytics initiatives. Magestro's path to business originated from science; he holds a Ph.D. in nuclear physics and has authored a number of research publications.
"The opportunity to join IIA and assist companies along their analytics journey aligns strongly with my career passion for growing analytics capabilities, including recruiting and retaining talent, establishing advanced analytics and big data, and improving business decisions through effective communication," said Magestro. "I'm excited to work with IIA's faculty network of thought leaders to advise businesses across all industries."
"I look forward to working with Dan to further IIA's mission of serving as the authority on analytics maturity and best practices. His depth and range of experience will be a great asset to IIA and the global clients we serve," said Tom Davenport, IIA Co-Founder and Board Member.
Magestro will address attendees at IIA's annual Chief Analytics Officer Summit on October 27, 2015 in Las Vegas, NV. To learn more about the event or inquire about attending, please visit http://www.caosummit.com.
About IIA
The International Institute for Analytics (IIA) is an independent research and advisory firm for organizations committed to accelerating their business through the power of analytics. Co-founded by Tom Davenport and CEO Jack Phillips, IIA works across a breadth of industries to uncover actionable insights from its network of analytics practitioners, industry experts and faculty. IIA's research clients gain access to an extensive research library, faculty-moderated executive roundtables and phone conversations. IIA also provides analytics benchmarking, dynamic inquiry and advisory services to its members, allowing business leaders and analytics professionals to keep their fingers on the pulse of analytics in the new data economy. Since its inception, SAS, Intel, Teradata, and Dell have supported IIA as underwriters. For more information about IIA, and how you can become a member, visit http://www.iianalytics.com or call 503-467-0210.