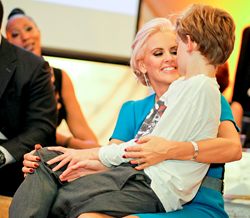 Indianapolis, IN (PRWEB) September 16, 2015
Play Again Now is turning its own passion for breakthrough recovery science into support for two distinguished charities just as passionate about changing lives. The makers of Play Again Now, Viscos LLC, is closely involved with Wish for Our Heroes and Generation Rescue through financial support, volunteerism, awareness and education.
Jeff and Kristen Wells founded Wish for Our Heroes in November 2009, to assist military families after seeing first-hand the toll that war takes on families back home. Their goal: To extend a helping hand to these hard-working families with often catastrophic issues sometimes overlooked during difficult times. Over 90 percent of the charitable contributions to Wish for Our Heroes go directly to families in need, and support includes medical devices for veterans, school supplies for needy families, and even donating a new home or car.
Viscos founder and President Debbie Ecksten said, "We are honored to work with Wish for Our Heroes, because they understand the toll that war has taken not only on soldiers but their families back home. They provide resources to military service members and veterans alike to make their deployments a little easier, and to improve the quality of everyday life for their families." Most recently Viscos and the Wish for Our Heroes team joined forces at the Austin Naturally Fit event to help provide support for a family that lost everything in the spring floods in Texas.
Viscos also supports Generation Rescue, the leading national organization providing hope, information and immediate treatment assistance to families affected by autism spectrum disorders. Because family expenses can be overwhelming, Generation Rescue helps families through more than 1,400 volunteer parent mentors, called "Rescue Angels," education and programming on autism treatment, free national, local and virtual conferences, and medical grants for families who cannot afford critical treatments and nutritional counseling.
Debbie Ecksten and her husband Hal are inspired by the passion and concern of Generation Rescue's Jenny McCarthy, Donnie Wahlberg and their team. "My husband and I are touched by the compassion and commitment that Generation Rescue has for children and families living with autism. We are excited and ready to help in any way we can as we learn more about the desperate need for education, medical and nutritional assistance for these families," said Ecksten.
For more information about Viscos and Play Again Now, visit http://www.playagainnow.com.
More information for WISH for OUR HEROES can be found at https://wishforourheroes.org/ and Generation Rescue can be found at http://www.generationrescue.org/