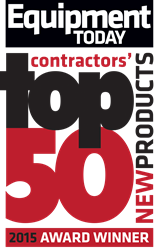 "Contractors will find the Contractors' Top 50 New Products invaluable as they consider purchases necessitated by the obsolescence or aging of existing equipment," asserted Becky Schultz, Equipment Today editor.
Fort Atkinson, WI (PRWEB) September 17, 2015
Equipment Today magazine announced the recipients of the 2015 Contractors' Top 50 Products awards, sponsored by the magazine in partnership with ForConstructionPros.com. Equipment Today and ForConstructionPros.com used feedback from construction equipment owners and operators to identify the top favorite products featured in the publication and on the web portal over a 12-month period from May 2014 – April 2015. These selections comprise the 2015 Contractors' Top 50 Products.
Recipients of the Contractors' Top 50 Products were organized into nine categories based on product type or application. Winning products represent the leading edge of innovation, quality, efficiency and environmental conservation in the construction equipment field today.
The following companies and products were identified as the 2015 Contractors' Top 50 New Products:
Earthmoving:
Bobcat Co. Tier 4 Final 600 Frame Size Loaders
Case Construction Equipment Tier 4 Final N Series Backhoe-loaders
JCB Inc. JS360 Excavator
John Deere Construction G Series Excavators
Kobelco Construction Machinery SK350LC-9E Crawler Excavator
Komatsu America PC490LC-11 Hydraulic Excavator
Kubota Tractor Corp. SSV65/SSV75 Skid-steer Loaders
Liebherr America PR 746 Litronic Dozers
Takeuchi Mfg. TL8 Compact Track Loader
Wacker Neuson Skid Steers and Compact Track Loaders
Attachments:
Coneqtec-Universal Micro Trench Cutters
Geith Inc. Ripper
Hensley Industries Xcentric Ripper Vibratory Attachment
Hoelscher Inc. Li'l Spike Attachments
K-Tec Earthmovers 1243ADT Self-loading Scraper
M.C. Faulkner & Sons Skid Steer Side Dump Bucket
Trucks & Transportation:
Advance Metalworking Lo Riser Trailer
Aluma 7816 Tandem Flatbed Trailer
Caterpillar Inc. CT681 Vocational Truck
Chevrolet Silverado High Country HD
Ford Truck 2016 Ford F-650/F-750 Medium Duty Truck
Gravely Atlas JSV Utility Vehicle
Ram Truck 2015 Ram Heavy Duty Trucks
Rock Line Product T14-12 Model Airtow Trailer
Demolition/Recycling:
Altec DSC6 Chipper
Fecon RTF230 Rubber Tire Mulching
KPI-JCI Inc. GT200 Cone Crusher
Vermeer Mfg. FT100 Forestry Tractor
Lifting Equipment:
Ingersoll-Rand Kinetic Series Hoists
JLG Industries Redesigned Telescopic Handler Line
Maintainer Corp. of Iowa H12025 Telescopic Crane
Manitou North America MHT 1490 Telescopic Handler
Technology:
Brigade Electronics Wireless Camera Monitoring System
DPL Telematics MultriTrack Tracking System
Sensera Systems MC-30 MultiSense Camera
Trimble Navigation SketchUp with 3D Warehouse
Road Building:
Curbco Sales Form-Botic Extrusion Machine
GOMACO Corporation Commander III Slipform Paver
Hamm Compaction – Wirtgen America Compact Roller Line
Roadtec Inc. SX-6e Soil Stabilizer Reclaimer
Parts & Service:
Beka Lube Products Pneumatic Spray Grease Gun
Bridgestone R244 Radial Tire
Kohler Co. KDI 3404 Diesel Engine
Penray Companies Total Diesel Fuel System Cleaner
Worksite Products:
425 Inc. Guardian Angel
Chicago Pneumatic Tool Cordless Air Tools
Eartec ComSTAR Full Duplex Headsets
Husqvarna Construction Products K 970 Power Cutter
Optrel e684 Welding Helmet
Stihl Inc. TSA 230 Cutquick
Additional information on the winning products can be found in the September issue of Equipment Today and on ForConstructionPros.com.
Construction professionals can follow construction news via Twitter (twitter.com/4ConstructnPros; twitter.com/EquipmentToday) and Facebook (facebook.com/ForConstructionPros; facebook.com/EquipmentToday).
Equipment Today magazine - which is celebrating 50+ years in the publishing industry - is the commercial contractor's leading equipment information resource. ForConstructionPros.com is the construction industry's #1 web portal. Equipment Today and ForConstructionPros.com are properties of AC Business Media.
About AC Business Media
AC Business Media is a business-to-business media company with a portfolio of renowned brands in heavy construction, asphalt, concrete, paving, rental, sustainability, manufacturing, logistics and supply chain markets. AC Business Media delivers relevant and cutting edge content to its audiences through its industry-leading digital properties, trade shows, videos, magazines, webinars and newsletters and provides advertisers the analytics, data and ability to reach their target audience.