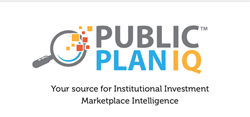 New York, New York (PRWEB) September 22, 2015
Public Plan IQ's Public Plan Explorer database contains publicly disclosed board materials and reporting, including investment manager and pension staff presentations, consultant documents, meeting minutes and detailed investment mandate pricing information for US state and local government public funds.
Public Plan Explorer provides comprehensive search capabilities, each document and media record catalogued across multiple attributes, covering service providers, fund characteristics, investment strategy and document type. Customized email alerts keep subscribers informed of the latest public fund activity. Public Plan IQ provides subscribers complete onboarding, staff training, custom searches and email alerts.
Public Plan IQ collaborates with public plan sponsors. Public Plan IQ offers subscriptions at no charge to public pension funds and endowments that provide meaningful disclosures. For those public funds lacking in transparency, Public Plan IQ pursues disclosure both formally and informally.
Based on the strong interest shown by investment managers and fund lawyers to easily access relevant public plan materials, Debra Gregory, CFA an institutional investment management professional with over two decades experience and deep expertise in market research and product development founded Public Plan IQ in August 2014.
Public Plan IQ offers a two week trial.