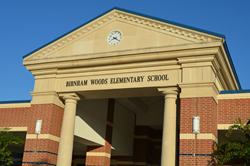 "We are fortunate to have such accomplished schools located right here in the community."
The Woodlands, TX (PRWEB) September 21, 2015
Falls at Imperial Oaks is celebrating academic success in the community, as all area schools have surpassed this years state accountability ratings. The four schools including Oak Ridge High School, York Junior High, Cox Intermediate and Birnham Woods Elementary each scored higher than the targeted score for every index evaluated.
The Falls is proud to be home to on-site campus Birnham Woods Elementary, who has earned a distinction designations in the area of closing performance gaps for meeting the needs of identified lower performing student groups based on last year's testing results.
"Earning any type of distinction under the state accountability system is commendable and should be a source of pride in that community," said Micheal Williams, Texas Commissioner of Education in the recent TEA release.
In addition, The Falls congratulates Cox Intermediate for earning a distinction in science, top 25 percentile for closing performance gaps, and top 25 percentile for student progress; and York Junior High for a distinction in mathematics.
Falls at Imperial Oaks recognizes that high quality education is one of the most important factors in choosing the best community for raising a family. Jim Holcomb, Developer of The Falls, encourages homebuyers to evaluate school ratings across the board before closing.
"We are fortunate to have such accomplished schools located right here in the community," says Holcomb. "It is important that we are able to provide families with resources that ensure their children will have everything they need to be successful in life."
About Falls at Imperial Oaks
Falls at Imperial Oaks is a premier master planned community located east of interstate 45 in Houston, Texas. Lots and homes are available in eight sections from the $200-$800's. The Falls continues to expand and build new homes— offering natural wooded areas, hiking trails, lakes for fishing and waterfront lots. For more information visit http://www.fallsatimperialoaks.com.