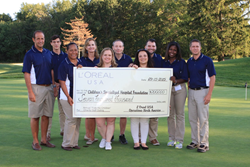 L'Oréal USA is proud to support Children's Specialized Hospital Foundation and the children and families who rely on their contributions every day
Mountainside, NJ (PRWEB) September 17, 2015
More than 850 employees, suppliers and volunteers participated in L'Oréal USA's annual "Fore the Children" charity event on Tuesday, September 15, raising a record $700,000 for Children's Specialized Hospital of New Jersey. Established in 2008, the event has continued to grow, raising nearly $4 million over that timespan for the Hospital which treats more than 26,000 children with complex medical needs each year at 13 locations across the state.
This year's event, which included a day of golf, lunch and auctions, was held at two courses, Fiddler's Elbow Country Club in Bedminster and Fox Hollow Golf Course in nearby Branchburg, New Jersey.
Over the years, "Fore the Children" has helped fund various projects, including the renovation of a therapy gym, creation of a family lounge, expansion of existing facilities, support of physician and therapist training programs, and creation of interactive software that helps patients and families better understand their treatment while in the hospital.
This year, the funds raised by "Fore the Children" will be used to implement a groundbreaking innovation in healthcare, called Vocera. Vocera provides a secure communication platform to instantly connect care team members with voice, text messaging and critical healthcare data anywhere. The Vocera communication system will integrate seamlessly into the hospital's alarm and nurse-patient communication systems allowing patients, their families and care givers to communicate, in real time, at the touch of a button.
"The work being done by Children's Specialized Hospital is incredibly meaningful," said Morris Lenczicki, Vice Chairman, Children's Specialized Hospital Foundation Board of Trustees and Vice President of Operations Americas at L'Oréal. "L'Oréal USA is proud to support the Foundation and the children and families who rely on their contributions every day."
The year's reception included an address by Children's Specialized Hospital CEO Amy B. Mansue and featured guests of honor Dylan Klink and her family, who were part of the closing presentations. The Klink family is the focus of a Children's Specialized Hospital success story video to celebrate the outstanding progress Dylan has made since she suffered a stroke at the age of two.
"It has been an extreme honor to call L'Oréal USA one of our premiere corporate partners," said Philip Salerno, III, president and chief development officer, Children's Specialized Hospital Foundation. "The children treated at Children's Specialized Hospital have not only benefited from L'Oréal's tremendous success in fundraising, but also the countless hours of volunteer service at our locations and hospital fundraising events."
The relationship between L'Oréal USA and Children's Specialized Hospital extends throughout the year, with hundreds of employees from L'Oréal USA volunteering their time at Children's Specialized Hospital as part of the company's annual Volunteer Day as well as participating in the Hospital's annual Walk n' Roll fundraiser held in May.
L'ORÉAL USA
L'Oréal USA is the largest subsidiary of the L'Oréal Group, the worldwide leader in beauty. L'Oréal USA manages a portfolio of 30 iconic beauty brands, including Carol's Daughter, Clarisonic, Essie, Garnier, Giorgio Armani Beauty, Kérastase, Kiehl's, Lancôme, L'Oréal Paris, Matrix, Maybelline New York, NYX, Redken, Urban Decay and Yves Saint Laurent Beauté. In addition to its corporate headquarters in New York City, L'Oréal USA has research, manufacturing and distribution facilities across 13 other states including Arkansas, California, Florida, Kentucky, New Jersey, Ohio, Texas and Washington with a workforce of more than 10,000 employees. For more information, visit http://www.LorealUSA.com or follow on Twitter @LOrealUSA.
CHILDREN'S SPECIALIZED HOSPITAL
Children's Specialized Hospital is the nation's leading provider of inpatient and outpatient care for children from birth to 21 years of age facing special health challenges — from chronic illnesses and complex physical disabilities like brain and spinal cord injuries, to developmental and behavioral issues like autism and mental health. At thirteen different New Jersey locations, our pediatric specialists partner with families to make our many innovative therapies and medical treatments more personalized and effective...so children can achieve more of their goals. To help, or find more information: call 888-CHILDRENS; visit http://www.childrens-specialized.org; Facebook: http://www.facebook.com/childrensspecialized; Twitter: http://www.twitter.com/childrensspecnj; YouTube: http://www.youtube.com/cshnj; LinkedIn: http://www.linkedin.com/company/children's-specialized-hospital