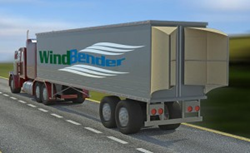 This is breakthrough technology that answers all of the drawbacks of current boat tail devices, with a major cost advantage.
Columbia, South Carolina (PRWEB) September 22, 2015
There's good news for big rig drivers and owners. Big Rig Innovations, Inc., a South Carolina company, has developed innovative technology that will increase mileage and decrease fuel costs for commercial trucks. Their latest project, the WindBender, promises to have a significant impact on the trucking industry. Big Rig Innovations is currently seeking licensee partners for the WindBender.
The WindBender is a unique aerodynamic technology, designed specifically for the long-haul freight industry. It offers significant fuel cost savings by decreasing wind drag on the trailer. It's inexpensive, flexible, efficient, durable, and doesn't impede loading or unloading, but it's big fuel savings vs. low installation cost that's the hook.
The WindBender is made from super tough PVC vinyl fabric with flexible fiberglass rods - it bends but doesn't break. The device is a simpler, more practical approach to trailer boat tails than competing models. With no motors, electronics, or solenoids to breakdown, malfunction, or require maintenance, the WindBender is virtually handsfree. It has almost no impact on the driver, dock operation, or trailer maintenance. It's installed in about a half an hour and the driver doesn't have to do anything. It self deploys, and when not in use, it retracts and stores automatically.
Auburn University recently hosted third party SAE J1321 tests on WindBender prototypes. The fuel efficiency results were very promising. In fact, the WindBender is expected to meet the EPA's SmartWay certification requirements of 5% or more fuel savings. Now it is time to hit the road. This device will change what is known about big truck fuel efficiency.
The WindBender device is very inexpensive to manufacture, which allows the savings to be passed on to the truck owner. The target price point is $750 US, with a payback period of only 4 to 6 months - a return worth noting.
A United States Utility Patent was awarded in 2014 and Big Rig Innovations is actively seeking WindBender licensee partners. Interested parties can use the form on their website to express interest and learn more about the WindBender.
About Big Rig Innovations, Inc.
Big Rig Innovations is the patent holder for the WindBender, a cutting edge aerodynamic trailer boat tail that save you money by improving mileage. To learn more about the WindBender or how to become a licensee partner, visit the Big Rig Innovation website at http://bigriginnovations.com or call +1 (513) 200-3787.