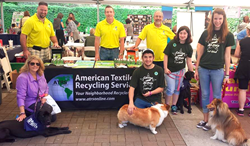 "People and pets come from all around Michigan to participate in the march. We always look forward to the outrageous pet constumes and the opportunity to share our mission of recycling on behalf of our furry friends." --Cat Sutter
Detroit, MI (PRWEB) September 17, 2015
Mega March, the largest walk for animals in Michigan, is now bigger than ever! This year's upcoming celebration expands to four neighborhood locations and more ways to help furry friends in the Mitten State find forever homes. American Textile Recycling Service (ATRS) returns for the third consecutive year as a title sponsor to raise awareness for this important cause. To date ATRS Recycling has raised funds to help over 833 animals find loving families in the Michigan region.
The celebration will be at the Mega March for Animals in Downriver, Belle Isle, Kinsington Metropark, and Stoney Creek Metropark. Local times and dates for each event are available on the MHS Mega March for Animals page.
ATRS staffers will be onsite with giveaways for attendees on both two and four legs. Community members can stop by to take selfies with pets and learn about the importance of clothing & shoe recycling in our communities. The longstanding partnership between Michigan Humane Society and ATRS enables families, pet owners and volunteer supporters to donate textiles of all kinds to raise much needed funds for spays, neuters and pet adoptions year round.
"This is one of our favorite community events of the year," says Cat Sutter, ATRS community advocate and Jackson resident. "People and pets come from all around Michigan to participate in the march. We always look forward to the outrageous pet constumes and the opportunity to share our mission of recycling on behalf of our furry friends."
Recycling gently used, out of season, unwanted clothing, shoes, sporting gear and even doggie clothes provides funding for the Michigan Humane Society. ATRS Clothing & Shoe Recyclers featuring the MHS logo are available at easy, convenient locations throughout Macomb, Oakland Hills and Wayne counties. Every pound collected creates much needed monthly funding for pet programs and services in the local community.
To learn more about ATRS and MHS visit Mega March for Animals.
For the nearest drop off location or to host a donation bin at a local business, shopping center or school, call the 24-Hr Hotline at 1-866-900-9308, or visit visit our website for more details.
American Textile Recycling Service (ATRS) is the nation's fastest growing textile recycler and a leading member of the S.M.A.R.T. Association. Its socially responsible business model provides free textile recycling solutions for the public, job stimulation worldwide and much-needed funding for worthy local charities. Easy, convenient ATRS Recyclers are available throughout Michigan, San Antonio, Austin, Arizona, Dallas, Houston, Galveston and Beaumont TX, Florida, Tennessee, Atlanta, Oklahoma, Colorado and Southern California. For media inquires contact pr (at) atrsonline (dot)com.