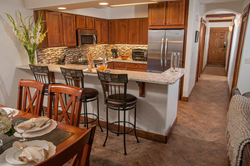 Antlers at Vail has announced some special new group amenities to enhance its popular meetings experience, including a state-of-the-art audiovisual system.
Vail, Colo., (PRWEB) September 18, 2015
Meeting and conference planners have long appreciated the Antlers at Vail hotel's exceptional, amenity-oriented lodging experience and its peaceful and convenient location on the banks of Gore Creek – as well as its reputation for highly personalized service. The Antlers at Vail in Vail, Colo., recently announced it has been awarded Vail's Platinum lodging ranking from Vail Valley Partnership, which manages a Lodging Quality Assurance program (LQA) that provides a standardized rating system for all units rented through the Vail Valley's central reservation systems, with Platinum representing the highest level of room appointments. The Antlers Platinum award signifies an average ranking of Platinum throughout the property.
In addition to its newly awarded Platinum ranking, the Antlers at Vail has announced some special new group amenities to enhance its popular meetings experience, including a state-of-the-art audiovisual system, a customizable floor-to-ceiling photo-mural backdrop that covers an entire conference room wall, and a recently acquired grand piano for live musical accompaniment to cocktail receptions and social gatherings.
"We are honored and excited to carry our Platinum designation forward, meeting – and exceeding – Vail Valley's highest-quality standards," says Antlers at Vail General Manager Rob LeVine. "For Colorado meetings and conferences at the Antlers, that includes making the Vail experience as appealing and memorable in our conference spaces as it is outdoors in our beautiful mountain setting."
The Antlers' 2,500 square feet of daylight-filled event space also includes direct access to the hotel's outdoor "pool with a view" overlooking Gore Creek – popular for outdoor receptions and conference lunch breaks. The Antlers' personalized experience for meeting planners has always included satisfying any group's audiovisual needs, but the new A/V system takes that advantage to an even higher level with improved sound quality, digital recording and wireless presentation as just a few of the enhancements.
Antlers at Vail hosts a variety of customized group events that have included, in just the past year, technical medical seminars, multiple Vail weddings, an adventure film school, industry trade shows for hundreds of people, community forums, board retreats, an international group of lawyers who combine meeting and skiing, and a new annual spring Pay It Backwards event to give back to Colorado nonprofits. Every type of group will enjoy the Antlers' newly Platinum-ranked guest suites, featuring numerous interior upgrades such as granite countertops, stainless appliances, new flooring, lighting, entertainment systems, fireplaces, furnishings and more.
"Congratulations to the Antlers at Vail for reaching a Platinum level rating in the Lodging Quality Assurance program," says Chris Romer, president of the Vail Valley Partnership. "It takes a concerted effort, plus dedication, time and resources, for any condominium property to reach our highest rating. Reaching this level of rating shows a commitment to providing the highest level of guest service by the Antlers ownership as well as the staff."
About Antlers at Vail
The Antlers at Vail hotel offers a relaxed Vail lodging experience in a fabulous mountain setting and was recently awarded Vail's highest-level Platinum lodging rating, as well as the TripAdvisor Certificate of Excellence and GreenLeader status. With condominiums ranging from studio suites up to four-bedroom penthouses, every unit at the Antlers enjoys a fully equipped kitchen, fireplace, private balcony, daily maid service, and complimentary Wi-Fi and parking. The Antlers has an A+ location on the banks of Gore Creek, just steps from restaurants, galleries, shops, free Vail town shuttle and the Lionshead Gondola. For more information and reservations visit http://www.antlersvail.com.
Media Contact: Anne McGregor Parsons, WordenGroup Public Relations, anne(at)wordenpr(dot)com, 303.777.7667