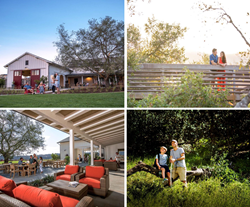 What will be evident at Esencia on Sunday, September 20 is the evolution of true inter-generational community living on The Ranch. - Paul Johnson, Rancho Mission Viejo, LLC
San Juan Capistrano, CA (PRWEB) September 18, 2015
On Sunday, September 20, 2015, thousands of homeshoppers are expected to attend the grand opening of 12 new residential neighborhoods (featuring 42 different model homes) at Esencia, a new view-oriented hillside village of approximately 890 acres in the acclaimed 23,000-acre South Orange County planned community of Rancho Mission Viejo.
Ultimately envisioned to encompass a total of more than 2,800 attached and detached "for sale" homes and "for rent" apartments, the village of Esencia (Spanish translation: the essence) will provide homes for all ages and life stages including non-gated "Gavilan" neighborhoods of primarily single-story homes for homebuyers age 55+. While Gavilan residents will enjoy exclusive access to some amenities, a long list of shared recreational amenities will also offer inter-generational opportunities as all residents of Esencia come together based on interest and ability versus being segregated by age.
"What will be evident at Esencia on Sunday, September 20 is the evolution of true inter-generational community living on The Ranch," said Paul Johnson, Sr. Vice President of Community Development for Rancho Mission Viejo, LLC, stewards of Rancho Mission Viejo and community master planners/developers. "Throughout Esencia, we've removed the gates that separate the ages. Instead of clustering all of the Gavilan neighborhoods together, we've spread them throughout the village. And, we've created a diversity of inviting recreational and social spaces to be shared by both 'all age' and 'active adult' residents so residents can choose to become as connected and integrated as they desire."
Currently priced from the high $400,000s to over $1 million, the collection of 12 neighborhoods debuting this month at Esencia on The Ranch feature eight neighborhoods for "all age" homebuyers and four Gavilan neighborhoods exclusive to the 55+ crowd. Totaling 840 homes, these 12 neighborhoods represent the first collection of homes to be offered at Esencia which is ultimately planned for 2,548 homes for sale and 262 apartments (for a total of 2,810 residential units) within approximately 35 distinct neighborhoods including up to 12 non-gated Gavilan neighborhoods.
Homebuilders offering homes for sale on September 20 include Meritage Homes,Ryland Homes, Shea Homes, Standard Pacific Homes, TRIPointe Homes, Warmington Residential, and William Lyon Homes. Dramatically rising from the floor of the San Juan Valley in the heart of The Ranch, the neighborhoods of Esencia are terraced into west-facing hillsides which afford both coastal views and backcountry panorama.
Among the many Esencia amenities preparing to debut during this Sunday's grand opening is The Canyon House, an indoor/outdoor retreat featuring a covered open air great room, a spacious courtyard with fireplace, event lawn and the adjoining Canyon Coffee, a village coffee house proudly serving Peet's coffees and teas. The Canyon House will temporarily serve as the Esencia Visitor's Center as it quickly becomes an important social hub for Ranch residents. Just below The Canyon House is Oak Canyon where hiking trails meander through stands of live oaks – awaiting exploration by Esencia residents. Also opening on September 20 is Brioso Park with a small lawn, picnic and seating area as well as a demonstration garden.
In addition, now under cultivation adjacent to The Canyon House is Esencia Farm, a community farm with a variety of in-ground row crops and fruit trees, raised planter beds, a harvest/preparation barn, chicken coop, and greenhouse. Esencia Farm is the third farm installed on The Ranch. Each farm is under the care of the Rancho Mission Viejo Community Farmer who oversees the crops and orchards, conducts farming classes and demonstrations, and hosts special farm-to-table dinners and events for residents living on The Ranch.
And, planned for throughout Esencia are a series of open air rooms and retreats located within the village as well as along its scenic edges. Looking out toward the rugged Chiquita Ridgeline and its wide canyon is The Outlook, now under construction and scheduled to open this winter for the exclusive use of Gavilan residents. The Outlook will include a covered outdoor great room, a resort-style lap pool with cabanas, a fire pit, and an outdoor dining area with barbeque grills. Also opening this winter is The South Plunge for all Ranch residents. The Plunge will include a pool, children's water play area, event lawn, and an outdoor grilling and dining area. Additional amenities planned for these unique Esencia retreats include tent cabins, bocce ball courts, small event and intimate gathering places, and so much more.
Plus, envisioned as Esencia's signature recreational and community-gathering place will be the view-oriented Hilltop Club with fitness center, swimming pool and spas, wading pool, staffed event bar, arcade, fire pits, barbeque pavilion, bocce courts, and expansive event lawn. Additional facilities and amenities planned for Esencia include The Pavilion multi-purpose building (with gymnasium, tot lot, outdoor gathering "movie zone" space, and open play area with soccer field and softball backstop), a future sports park with courts for tennis and pickleball, and even a dog park with dog watering and washing stations, plus more.
Anticipated to open for instruction by Fall 2018 will be the new Esencia K-8 school (part of the Capistrano Unified School District). And, approximately 50 acres of commercial space has been allocated at Esencia for such uses as retail shops and services, restaurants, professional and medical offices, and more.
Esencia is the second village to debut on The Ranch. Noted as the largest new planned community in California, Ranch Mission Viejo is envisioned to ultimately provide approximately 14,000 homes (including up to 6,000 homes in Gavilan neighborhoods, exclusive to residents age 55-plus). In addition, The Ranch is expected to include up to five million square feet of non-residential uses as well as sites for schools, parks and recreational facilities, essential services and a network of trails and roadways linking the multiple villages planned for The Ranch.
At build-out, the villages on Rancho Mission Viejo will occupy approximately 6,000 acres or 25% of the historic 23,000-acre Rancho Mission Viejo, Orange County's last working ranch which has been held in the O'Neill/Avery/ Moiso family since 1882. About 17,000 acres, or 75% of the family's ranch, will be preserved for ranching, farming and the phased formation of a large habitat conservation area known as The Reserve at Rancho Mission Viejo.
Esencia on The Ranch is located just 2.3 miles from downtown San Juan Capistrano and five miles from San Clemente and Doheny State Beach, with easy access provided to the employment and retail centers of Ladera Ranch, Mission Viejo, Irvine, Rancho Santa Margarita and other Orange County areas.
To learn more about Rancho Mission Viejo and Esencia as well as all the plans for the Sunday, September 20 grand opening, please visit http://www.RanchoMissionViejo.com and follow us on social media with #EsenciaOpening.
_____________________________________________________________________________
Rancho Mission Viejo, LLC is a privately held, family-owned and -operated company responsible for the ranching, farming, planning, development, and financial management of the remaining 23,000 acres of Rancho Mission Viejo, situated in unincorporated South Orange County, CA. Since 1882, members of the O'Neill/Avery/Moiso family have owned and managed The Ranch which once exceeded 200,000 acres and now includes the family-developed cities and communities of Ladera Ranch, Las Flores, Mission Viejo and Rancho Santa Margarita as well as such important places as Caspers Wilderness Regional Park, the Starr Ranch Audubon Sanctuary, O'Neill Regional Park and Marine Corps Base Camp Pendleton.