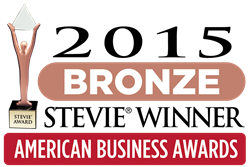 Bridgeport, CT (PRWEB) September 22, 2015
GoECart, the leading provider of ecommerce platforms for small and medium-sized businesses (SMBs), has been chosen for yet another prestigious industry award, when it was recently named a Bronze Stevie® Award winner in the Company of the Year category at The 2015 American Business Awards.
The 13th Annual American Business Awards announced the Stevie Award winners at its September new product and technology awards event in San Francisco. The American Business Awards are considered the nation's preeminent business awards program. More than 3,300 entries were submitted to The 2015 American Business Awards and more than 200 executives nationwide participated in judging to determine this year's Gold, Silver and Bronze Stevie Award winners.
"The whole team at GoECart is pleased to have won yet another Stevie, as it validates the approach we take every day. For example, we know that even though the software we develop is commonly referred to as an ecommerce platform, the needs of a merchant have evolved far beyond a storefront. And people commonly confuse ecommerce platform for storefront technology only," says Manish Chowdhary, Founder and CEO of GoECart.
"We believe in investment in customer experience technologies, which are all the customer-facing tools and features like site search, rich transactional email, content management, the ability to marry content and commerce so you can tell a good story as opposed to just dumping products in front of customers, feature-rich mobile commerce must be coupled with back office functionality like order management, inventory management, and fulfillment," Chowdhary continues. "So, this award is a fitting recognition of the work we put in every day and a testament to the fact that we're constantly innovating and improving our GoECart 360 ecommerce platform to insure our customers remain ahead of the curve in omni-channel retailing."
For more information on how GoECart's ecommerce platform can help your business take the next giant step forward in omni-channel marketing visit GoECart.com.
About GoECart
GoECart provides a complete ecommerce platform suite, GoECart 360, which enables SMB merchants to manage all aspects of omni-channel commerce — from ecommerce, order management and inventory management,in-store POS to marketing, merchandising, e-marketplaces, fulfillment and customer service. GoECart eliminates technology and integration hassles, allowing businesses to run better and grow faster. Additionally, GoECart's cloud-based delivery model delivers on the rewards of software-as-a-service (SaaS). These include zero investment in infrastructure, no integration headaches, free upgrades, and affordable, pay-as-you-go pricing.
About the Stevie Awards
Stevie Awards are conferred in six programs: the Asia-Pacific Stevie Awards, the German Stevie Awards, The American Business Awards, The International Business Awards, the Stevie Awards for Women in Business, and the Stevie Awards for Sales & Customer Service. Stevie Awards competitions receive more than 10,000 entries each year from organizations in more than 60 nations. Honoring organizations of all types and sizes and the people behind them, the Stevies recognize outstanding performances in the workplace worldwide. Learn more about the Stevie Awards at StevieAwards.com.
GoECart
855 Main Street Bridgeport, CT 06604 USA
1-877-243-3612
sales(at)goecart(dot)com