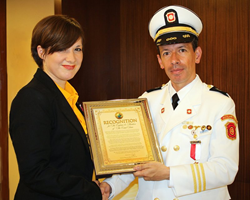 to experience the brotherhood and goodwill of this movement across the planet is powerful.
Los Angeles, CA (PRWEB) September 17, 2015
It is an extraordinary being who puts himself or herself at risk to help those in need—those he has never met, in times of disaster, no matter where it occurs. These are the people honored on World Humanitarian Day, created by the United Nations to recognize "those who face danger and adversity in order to help others"—people like the National Circle of Aid Technicians of Colombia (CINAT) and their partners the Scientology Volunteer Ministers.
The Church of Scientology of Bogotá was honored to celebrate World Humanitarian Day by hosting a ceremony to mark CINAT's 20th anniversary.
The ceremony began with the Colombia national anthem and a presentation to young members who began volunteering this year. This was followed by the recitation of the CINAT Code and the presentation of promotions and awards to those who have shown exemplary service.
Not only do CINAT members respond to disasters, they train others in the techniques and procedures needed to do so. Captain John Galindo Vega, Co-Founder and Operations Director of the group has trained some 58,000 professional rescuers and also holds the position of Chief Coordinator for the National System of Volunteers of Colombia, a position he has held for the past five years.
From April through June this year, the Scientology Volunteer Ministers and CINAT worked together in Nepal when a series of massive earthquakes and aftershocks and the mudslides and avalanches they triggered killed thousands, left hundreds of thousands homeless and in need of care and set the economy back by an estimated $10 billion.
An honored speaker at the Grand Opening of the Church of Bogota July 5, Captain Galindo Vega described the Volunteer Minister program as "a beating heart of our society," and said, "to experience the brotherhood and goodwill of this movement across the planet is powerful." CINAT has decided to take this brotherhood one step further, including Scientology Volunteer Minister training in the International Academy of Disaster Management he oversees so that thousands of future expert rescuers will also become Scientology Volunteer Ministers.
Attending the ceremony were also representatives from government ministries who recognize CINAT as an essential element in national security.
The Volunteer Ministers program was expressly intended for use by Scientologists and non-Scientologists alike. Anyone of any culture or creed may train as a Volunteer Minister and use these tools to help their families and communities. And all are welcome to do so.
Equipped with effective technology to resolve virtually any difficulty, Volunteer Ministers live by the motto: "No matter the problem, something can be done about it."
The Scientology religion was founded by author and philosopher L. Ron Hubbard. The first Church of Scientology was formed in Los Angeles in 1954 and the religion has expanded to more than 11,000 Churches, Missions and affiliated groups, with millions of members in 167 countries. Learn more about Scientology at http://www.Scientology.org