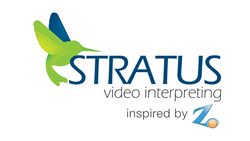 By increasing awareness of VRI, we are advancing our mission of giving voice to the voiceless and expanding availability of quality medical care to all.
Clearwater, FL (PRWEB) September 21, 2015
Every October, tens of thousands of runners from all 50 states and more than 100 countries gather to participate in the Bank of America Chicago Marathon, the culmination of months of intense training for both everyday and elite athletes. The runners, along with over one million spectators lining the route, represent a rich mix of backgrounds, cultures and languages – a fact which prompted Stratus Video Interpreting to donate seven iPads and unlimited interpreting minutes, thereby combining the benefits of face-to-face interpretation by a qualified medical professional with the convenience of mobile technology.
As with any athletic event of this magnitude, a certain number of participants will experience injuries, ranging from simple blisters and muscle strains to more serious issues. Stratus recognizes that in case of illness or injury, the ability to communicate quickly and accurately is vital. However, when thousands of runners from around the world converge in Chicago on October 11, language barriers are inevitable. Runners with Limited English Proficiency (LEP) will likely be among those needing medical attention, but unable to communicate their symptoms to doctors and nurses.
Stratus will provide medically trained and certified interpreters in up to 175 languages—so every runner who needs help will have the opportunity to be heard. At the 2014 Bank of America Chicago Marathon, dozens of participants and their families utilized Stratus Video Interpreting at the Abbott Health & Fitness Expo, as well as in Grant Park medical tents.
"The Bank of America Chicago Marathon is renowned for being on the leading edge of technology, so Stratus fits right in," said President David Fetterolf. "When every minute counts, medical professionals need to quickly and clearly communicate with patients, and we're happy to help race organizers deliver the safest possible experience to the running community and Chicago."
With a goal of increasing awareness for LEP language access services, Stratus Director of Marketing Kate Pascucci will be participating in the 2015 Chicago Marathon. Stratus and General Manager William Cobb finished the 2014 race, and inspired Pascucci to train for this year's event. Account Manager Cris Salancy will also travel to Chicago in support of Pascucci.
Stratus Video Interpreting is passionate about providing video remote interpreting solutions to healthcare systems nationwide, to make it possible for people of varied backgrounds and cultures to easily connect when it's most important.
"Every patient with LEP deserves access to a qualified medical interpreter," said Fetterolf. "By increasing awareness of VRI, we are advancing our mission of giving voice to the voiceless and expanding availability of quality medical care to all."
For more information on Stratus Video Interpreting, please visit http://www.stratusvideo.com/.
About Stratus Video Interpreting:
Stratus Video Interpreting provides on-demand interpreter services by using technology to connect clients with interpreters in over 175 spoken and signed languages in less than 30 seconds. Stratus' cloud-based video solution delivers an array of unique features to virtually any Internet-enabled PC, Mac, smartphone or tablet. Stratus clients use the technology to connect with their own staff interpreters, as well as with Stratus interpreters, who have years of healthcare and courtroom experience and hold multiple certifications. With Stratus, state-of-the-art video remote interpreting is made available with virtually no capital investment. Stratus averages 65,000 video calls a day, up from 40,000 in mid-2013. Stratus Video is the sister company of The Z® (CSDVRS, LLC, dba ZVRS), which was established in 2006 and developed by and for deaf and hard-of-hearing individuals, setting the industry standard as the nation's premier Video Relay Service Provider and the first VRS Provider to receive a 5-Year certification from the FCC. In 2014, Stratus was recognized as one of the fastest-growing privately held companies, ranking #3,827 on Inc. magazine's Inc. 5000 list. For more information, visit http://www.stratusvideo.com.