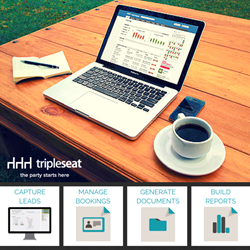 Such a user friendly system that helps you get the job done in an efficient and effective way! I love it and can't imagine working without it!!
Boston, MA (PRWEB) September 22, 2015
Tripleseat, the fastest growing online restaurant and hotel Sales and Event Management company, announced today that it has managed more than one million events in the United States. Since Tripleseat was introduced in early 2009 the company has quickly gained traction with Event Managers and Planners in restaurants, hotels and unique venues, growing 60% year-over-year.
"When I started Tripleseat in 2009 it was to make Event Sales Managers lives easier by streamlining the planning process and capturing event leads to grow sales said Tripleseat CEO and Co-Founder Jonathan Morse." I used to be an Event Manager myself and I know first-hand what a huge pain in the neck it is to make Banquet Event Orders (BEO), Contracts and Proposal and what it is like to be in your office late at night, making change after change to those BEO's and trying to communicate the changes to everyone." Fast forward seven short years and Tripleseat has close to 2,000 venues in the U.S. and Canada
Tripleseat was founded by Jonathan Morse and Kevin Zink who recognized that the manual process that restaurant and hotel Event Managers were using to plan and book events was costing the operation time and money. "Close to 30% of a restaurants revenue comes from events and private parties," said Jonathan Morse, "but the event business was being managed manually with post it notes and email. We wanted to leverage our experience in both the event business and building web application to building a platform that would automate the planning process and increase sales for the operation"
Customers applaud Tripleseat's depth of functionality, ease of use, and customer support.

I love using Tripleseat, the whole process is seamless! Contracts are generated and sent within minutes of an inquiry, the calendar is organized, and BEO's are simple to expedite. -Ocean Prime
Such a user friendly system that helps you get the job done in an efficient and effective way! I love it and can't imagine working without it!! -Earl Enterprises
It has streamlined our events business at the hotel and really helped us in reporting and quantifying our results. Also, everyone at Tripleseat is very responsive and easy to work with! -Wythe Hotel
About: Tripleseat is a sales and event management web application that increases bookings and streamlines the planning process for Event Sales Managers in restaurants, hotels and unique venues. Tripleseat was Founded in 2008 by Jonathan Morse, a seasoned veteran of the Hospitality industry working for Marriott International, Backbay Restaurant Group and Starwood Hotels, when he recognized that Event Sales Managers were managing their banquets and events manually. This ad hoc process was causing restaurants and hotels to lose business and was creating frustration for Event Sales Managers and customers alike.