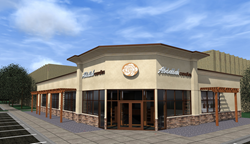 An additional facility will give us the ability to produce more of our signature confections for our retail, gift and corporate customers.
Burnsville, Minn. (PRWEB) September 29, 2015
As fourth-generation, family-owned Abdallah Candies gears up for the 2015 holiday and corporate gift-giving season, it looks ahead to 2016 and the construction of a new manufacturing and retail space following preliminary approval from the city of Apple Valley, Minn., on Thursday, Aug. 27. When fully completed, the facility will be 159,000 square feet, beginning with an initial build-out of 74,000 square feet of production and retail space, to supplement the company's current 58,000-square-foot facility in Burnsville. The new space will allow Abdallah to better meet the needs of its growing, nationwide customer base and consumers in the Twin Cities.
"An additional production facility will give us the ability to make more of our signature confections for our retail, gift and corporate customers as well as expand our product offering in the future," said Steve Hegedus, CEO of Abdallah Candies and the fourth-generation family owner. "We're also excited to have an additional retail store, this one in Apple Valley's busy retail district, creating greater exposure with consumers in the Twin Cities." Hegedus hopes the facility will be completed by August 2016.
Relative to the company's current facility, the new site includes increased parking for employees and retail customers, and improved traffic flow to accommodate employees, retail customers and tour busses. Particular consideration has been given to the employee environment, with a large breakroom and locker room, and a dedicated outdoor space. The retail store of 3,600 square feet is larger than the current store, providing ample space for selling a variety of gourmet chocolates and candies, greeting cards and gift items. It will also include the company's popular dipping room, a small room visible to retail guests where employees hand dip confections such as stemmed cherries in dark and milk chocolate.
EFH Realty Advisors helped Abdallah identify the site and negotiate for its pending purchase of the site, which includes space for a future second-phase addition of 85,000 square feet. Wilkus Architects is finalizing plans for the precast concrete production and retail building. EFH Co. will build the facility that will initially house the company's caramel, toffee and chocolate truffles lines.
At its Thursday, Aug. 27, 2015 meeting, the Apple Valley City Council unanimously approved three motions related to the Karamella LLC (dba Abdallah Candies) expansion:
1. An amendment to a zoning ordinance allowing ancillary retail in conjunction with a permitted use in the "I-1" (Limited Industrial), "I-2" (General Industrial) and "BP" (Business Park) zoning districts.
2. The subdivision of the 21.58-acre parcel to create one lot and one outlot.
3. The authorization of the site plan and issuance of the building permit for an approximately 69,500 square foot manufacturing and warehouse facility, and attached 4,200 square foot ancillary retail facility.
About Abdallah Candies
Founded in 1909 by Albert Abdallah, a young immigrant from Lebanon, Abdallah Candies handcrafts premium chocolates and confections from the same recipes the founder perfected over 100 years ago. Abdallah sells its products wholesale through gift and candy stores nationwide, and at its own retail and online stores. The fourth-generation, family-owned company also private labels its products for select retailers and grocers. For more information, visit: http://www.abdallahcandies.com.
###