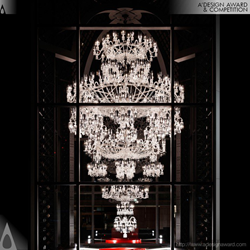 Como, Italy (PRWEB) September 20, 2015
A' Design Award and Competition is pleased to announce that the design project Baccarat 250th anniversary chandelier by Yasumichi Morita has been announced as a winner of the Platinum A' Design Award in Lighting Products and Lighting Projects Design Competition Category.
Details of Baccarat 250th anniversary chandelier
Yasumichi Morita, the designer of the award winning Lighting project Baccarat 250th anniversary chandelier demonstrated "Baccarat has been collaborating with various creators who lead generations and always seeking new creatives to produce innovative artworks. They unveiled their very first chandelier in 1827 in France and in 2014 they tried to produce the new chandelier to celebrate their 250th anniversary. GLAMOROUS co.,ltd. is so honored as to design the chandelier and has expanded the design possibility of Baccarat chandeliers under the concept of "Session of Sparkle" reflecting the combination of different materials; crystals and mirrors. " Learn more and download high-resolution photos at: https://competition.adesignaward.com/design.php?ID=38515
Creative Team for Baccarat 250th anniversary chandelier
Baccarat 250th anniversary chandelier was designed by Yasumichi Morita, Jo Umeno and Torahiko Suga
The Platinum A' Design Award
The Platinum A' Design Award is a prestigious award given to top 1% percentile designs that has achieved an exemplary level of excellence in design. Entries to the A' Lighting Design Competition is judged by an expert jury panel composed of press members, academics and professional designers who peer review and anonymously evaluate the submissions based on strict guidelines and predetermined criteria. Laureates of the A' Design Award & Competition are given the A' Design Prize which includes a series of PR and publicity tools such as interview with designers to help promote the winners.
About A' Design Award and Competition
A' Design Award and Competition aims to highlight the excellent qualifications of best designs, design concepts and design oriented products worldwide by highlighting the best design works from all countries. A' Design Award and Competition is organized and awarded annually and internationally in multiple categories to reach a wide, design-oriented audience. The ultimate aim of the A' Design Competition is to create a global awareness for good design, meanwhile pushing designers, product manufacturers and brands worldwide to come up with superior projects. To learn more about the A' Design Awards, design enthusiasts could visit http://www.whatisadesignaward.com.