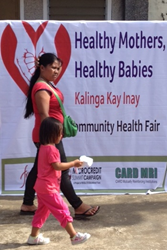 We realize the importance of good health for microfinance clients and to help them continue to improve their quality of life
WASHINGTON, D.C. (PRWEB) September 24, 2015
Partners in a joint-program aiming to improve maternal health in the Philippines announced today that they provided more than 800,000 women with maternal health services in the past year. CARD Mutually Reinforcing Institutions (CARD MRI), the Microcredit Summit Campaign, and Freedom from Hunger began rolling out health education in April to poor and rural communities in Luzon, Mindanao, and, notably, the Visayas, which experienced destruction in the wake of Typhoon Haiyan.
With the support of program partners, CARD MRI trained more than 1,000 account officers (AOs) in 14,650 centers to deliver the health education to CARD members. The AOs educated an average of 5,000 women per day over the last five months on important maternal health issues. Each woman received two hours of instruction on simple but important lessons like the food and nutritional supplements that pregnant and young women need and the importance of giving birth in a health facility.
"Helping poor communities through financial access is undeniably important in poverty eradication," said Marilyn M. Manila, director of the Community Development Group at CARD MRI (a Filipino microfinance institution), "but this is insufficient to reach our goal. Poor health and having no access to health care service are a big part of continuous poverty in many countries. We realize the importance of good health of microfinance institutions' (MFIs') clients to help them continue improve their quality of life." Ms. Manila also chairs the MFIs for Health, a consortium of 21 Filipino MFIs committed to providing access to health care services to poor communities.
At 30 years old, CARD MRI client Barrera is eight months pregnant with her fourth child. Barrera is one of the 3,634 women who received routine gynecological examinations and 2,222 mother and baby kits at four community health fairs over the last 12 months. Berrera attend the fair in Davao this July "for the ultrasound—to be able to see my baby. It was my first time." More than 100 healthcare providers have participated in the four health fairs, and many more will. The next health fair will take place in very rural areas of Mindanao October 2nd and 3rd.
Community health fairs are important for improving maternal health in poor, rural communities where accessing health services is a challenge. Program partners organize health fairs with support from local foundations and professional associations like the Philippines OB/GYN Society, community health workers and private health providers, as well as the government: the Department of Health, local government units, and PhilHealth (the national insurance program).
Over the last 15 years, the Philippines has improved in many key indicators such as life expectancy, access to education, and infant mortality; however, maternal mortality has remained at unacceptably high levels. Delays in accessing medical care is a key bottleneck in achieving better results for mothers and ababies. With 99 days to the end of the Millennium Development Goals and the Global Goals for Sustainable Development on the horizon, this collaboration to educate about and expand access to health services is critical for meeting the needs of poor communities. This project is supported by an educational grant from Johnson & Johnson.
###
The Microcredit Summit Campaign, a project of RESULTS Educational Fund, is the largest global network of institutions and individuals involved in microfinance and is committed to two important goals: 1) reaching 175 million of the world's poorest families with microfinance and 2) helping 100 million families lift themselves out of extreme poverty. The Campaign convenes a broad array of actors involved with microfinance to promote best practices in the field, to stimulate the exchange of knowledge and to work towards alleviating world poverty through microfinance. In early 2016, the Microcredit Summit Campaign will host the 18th Microcredit Summit in Abu Dhabi.
The CARD Mutually Reinforcing Institutions is a group of mutually reinforcing institutions with a common goal of alleviating poverty in the Philippines and improving the quality of lives of the socially-and-economically challenged women and families towards nation building. CARD MRI has 1,845 offices located all over the country and programs/partnership offices in Cambodia, Vietnam, Laos, and Myanmar, and Hong Kong. CARD MRI has 2.99 million members and clients as of July 2015 in the Philippines, continuously providing them holistic and integrated financial and social services that help uplift their lives and eventually transform them into responsible citizens for their community and their environment.
Founded in 1946, Freedom from Hunger is a US-based international development organization that brings innovative and sustainable self-help solutions to the fight against chronic hunger and poverty. By partnering with local microfinance institutions (MFIs) and nongovernmental organizations (NGOs) throughout Asia, Africa and Latin America, Freedom from Hunger is reaching 5.7 million women, equipping them with resources they need to build futures of health, hope and dignity.