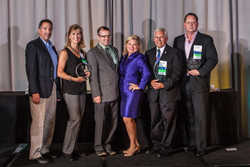 These nominees are making great strides to improve security, risk and privacy not only for their own organizations, but the industry as a whole.
NEW YORK and ATLANTA (PRWEB) October 12, 2015
T.E.N., a technology and information security executive networking and relationship-marketing firm, honored finalists and winners Thursday evening, October 8, at the 2015 ISE® Northeast Executive Forum and Awards Gala at the Westin Times Square in New York City, NY.
Michael Towers, VP, executive information security officer for Allergan, was selected as the Information Security Executive® of the Year Award winner for the ISE® Northeast Region. Towers is accountable globally for protecting the confidentiality, integrity and availability of Allergan's vast information assets across an R&D, supply chain and commercial enterprise spanning 250+ locations in ~100 countries.
Lisa Humbert, executive director of IT security for Quest Diagnostics, was honored during the event as a finalist in the executive category. Lou Saviano, VP of global IT services for Skillsoft won the 2015 ISE® Northeast People's Choice Award. This award represents the nominee who best exemplifies information security leadership as voted on by his peers in information security.
The ISE® Northeast Project of the Year winner was AT&T for "Project Astra," which provides an ecosystem and framework that enables virtual security services to be delivered effortlessly via APIs and automated intelligent provisioning, creating micro-perimeters around specific applications based on application specific requirements. During the course of the project, this team also led a transformation within AT&T about how the company thinks about its technology processes, exemplifying a new approach to quickly develop and introduce solution.
Project finalists included Comcast's "360° Vendor Risk Assurance Program" and ADP's "Integrated Application Security Testing."
"We were pleased to see executives and projects representing the Northeast region from Pennsylvania to New Hampshire," said T.E.N. CEO and President Marci McCarthy. "These nominees are making great strides to improve security, risk and privacy not only for their own organizations, but the industry as a whole."
Full list of nominees can be found on the T.E.N. website:
Executive: http://ten-inc.com/ise/northeast/exec_nominees.asp
Project: http://ten-inc.com/ise/northeast/project_nominees.asp
The ISE® Northeast Awards recognize both information security executives and projects for outstanding achievements in risk management, data asset protection, compliance, privacy and network security. Award winners were selected from the U.S. Northeast region, which includes Connecticut, Delaware, Maine, Massachusetts, New Hampshire, New Jersey, New York, Pennsylvania, Rhode Island, Vermont and Washington DC. The event is made possible by Megabyte sponsor Bay Dynamics; Kilobyte sponsors, Adobe, Akamai, HP, Lockheed Martin, Micro Focus/NetIQ, Security Compass and Symantec; and display sponsors, Bromium, Click Security, Identity Finder, Intralinks, Invincea, NetSPI, Seculert, Synack, ThreatConnect and Tripwire. Learn more online: http://ten-inc.com/ise/northeast/default.asp
About T.E.N.
T.E.N., a national technology and security executive networking organization, facilitates peer-to-peer relationships between top executives, industry visionaries and solutions providers. Nominated for numerous industry awards, T.E.N.'s executive leadership programs enable information exchange, collaboration and decision-making. Its flagship program, the nationally-acclaimed Information Security Executive® (ISE®) of the Year Program Series and Awards, is North America's largest leadership recognition and networking program for security professionals. Other offerings include The ISE® Lions' Den and Jungle Lounge, T.E.N. Custom Programs and the ISE® Industry Expert Advisory Services, empowering IT solutions providers to gain access to highly credentialed IT business veterans' expertise. For information, visit http://www.ten-inc.com.
About ISE® Award Program Series
For more than a decade, the Information Security Executive® (ISE®) of the Year Award Program Series has empowered security executives and their project teams to Connect, Collaborate and Celebrate. Recognized as the industry's most prestigious IT Security award program, it has become the most anticipated award program for security executives and their project teams. Winners have included executives and project teams from leading organizations such as Nike, The Walt Disney Company, the United States Postal Service, Schlumberger, Texas Instruments, JPMorgan Chase & Co., Equifax, Comcast, PayPal, Northrop Grumman Corporation, and Nationwide.
Our distinguished ISE® Judges are past nominees representing a cross section of industries, including commercial, government, health care and academic sectors. For this reason, the ISE® Awards represent the best achievements of the year as evaluated by those regarded as the industry's most influential and successful thought leaders. Coupled with a one or two-day executive forum or leadership summit, the ISE® Awards are held across the country and Canada in major cities including Atlanta, Chicago, Dallas, New York and San Francisco. The ISE® Awards Program Series has reached more than 10,000 executives across a broad range of industries and has been a major influence in executives' careers, knowledge sharing, and the development of peer-to-peer relationships.