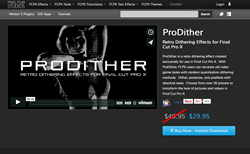 This FCPX Plugin gives users that old video effect with a click of a mouse.
Aliso Viejo, CA (PRWEB) September 20, 2015
ProDither is a retro dithering effect created exclusively for use in Final Cut Pro X. With ProDither, FCPX users can recreate old video game looks with random quantization dithering methods. Dither, posterize, and pixellate with absolute ease. Choose from over 30 presets to transform the look of pictures and videos in Final Cut Pro X.
ProDither comes with 30 presets ready for use in Final Cut Pro X. Choose from mildly dithered looks to more erratic effects with greater scene quantization. To use ProDither, select a preset and drag it onto pictures or videos in the Final Cut Pro X timeline. Adjust the dither, posterize, and pixellation amount to create new looks.
ProDither allows users to create old video game looks with the drag of the mouse. First bump the "Pixellation Amount" slider to recreate the look of an 8-bit video game. Next adjust the "Dither Amount" to achieve greater details within the scene. Lastly, adjust the "Saturation" slider to dull colors and match throwback looks.
Use the ProDither OSC position control to change the dither pattern when applied to the scene. Move the on-screen control toward the bottom left corner for large, square-shaped patterns. Moving the on-screen control toward the top left corner to create vertical dither patterns. Lastly, moving the on-screen control toward the bottom right corner will create horizontal dither patterns.
Having trouble with ProDither? ProDither comes with an instructional video that breaks down the functionality of each parameter control included with the plugin. For further help, please contact our live support service.
Established in 2006, Aliso Viejo, California-based Pixel Film Studios is an innovative developer of visual effects tools for the post-production and broadcast community. Their products are integrated with popular non-linear editing and compositing products from Apple FCPX. Apple, the Apple logo, Mac OS X, and Macintosh are registered trademarks of Apple Inc. in the U.S. and/or other countries. All other trademarks and trade names are the property of their respective owners.