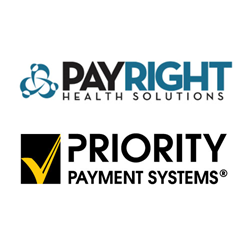 Alpharetta, GA and Landenberg, PA (PRWEB) September 23, 2015
Priority Payment Systems and PayRight Health Solutions announced today a partnership to help improve patient payment education and financial management. Under this agreement, Priority will license PayRight's healthcare payment technology to power Priority's MX Medical and MX Home Care solutions, providing comprehensive tools for identifying patient eligibility and responsibility combined with a wide variety of payment options.
"PayRight's Health Payment Manager is an excellent fit with Priority's focus on providing market leading payment technology to solve specific business problems" stated Tom Priore, Chairman of Priority.
According to a recent McKinsey report, healthcare related bad debt continues to rise with more than $65 billion in uncollected revenue. The largest increase in bad debt comes from the amount not collected from insured patients when their insurance company only covers part of the medical costs.
"PayRight combines payment technology with patient education to create a powerful payment platform. Together Priority and PayRight can address point-of-care and online patient payments that significantly streamline the process and improve overall patient payments" said Jim Bridges, President & CEO of PayRight.
"Uniting Priority's HIPAA audited payment technology with PayRight's patient estimation engine creates a powerful platform to help healthcare providers resolve this collection dilemma and improves payment reconciliation and overall operating efficiency," added Afshin Yazdian, President of Priority. "With MX Medical, our partners can seamlessly sell and service health care providers."
"Healthcare providers who have adopted our approach to transparency around patient financial responsibility at the point of care have enjoyed an average of 10% improvement in collections," noted PayRight Chief Revenue Officer Sam Wheeler.
About Priority Holdings
Priority Holdings is a leading innovator in the electronic payment processing industry, dedicated to providing consumer inspired payment products and first class service and operation support. Its merchant acquiring subsidiary Priority Payment Systems' robust payment solutions and merchant services platform is a well-established high value partner to merchants and reselling partners nationwide. Priority is currently the 20th largest merchant processor in the United States, processing over $20 Billion of transactions for 135,000 plus merchants.
About PayRight Health Solutions
PayRight Health Solutions provides cloud-based, solutions for patient payment education and payment management. PayRight's products include point-of-care patient liability, patient payment options, and patient payment portals for health and home care. PayRight's approach improves patient education, increases payment choices and improves compliance. PayRight Health Payment Manager is proven to increase the amount of money collected from patients, reduce Day's Sales Outstanding and bad debt, and lower transaction processing costs. For more information, call (888) 274-1359 or visit http://www.payrighthealth.com.