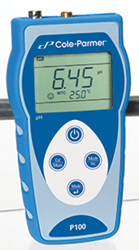 Vernon Hills, IL (PRWEB) September 21, 2015
Hydroponic gardeners, greenhouse workers, and environmental researchers now have a low-cost option for checking plant nutrients. A new line of pH meters, conductivity meters, and turbidity meters from Cole-Parmer takes a smaller bite of their budget.
While the water quality meters are designed for general use, they also offer automatic temperature compensation and auto ranging features. Three to four calibration points keep readings accurate. The portable units include a protective rubber boot with a convenient fold-out stand for hands-free measurement.
For more information about these pH meters, conductivity meters, and turbidity meters, go to ColeParmer.com/21470 or call 800-323-4340.
Cole-Parmer has been a leading global source of laboratory and industrial fluid handling products, instrumentation, equipment, and supplies since 1955. Our product lines, including popular brand names such as Masterflex®, Oakton®, Digi-Sense™, Environmental Express®, Ismatec®, and more, are sold through company-owned customer channel outlets and a strong network of international dealers. We also feature an ISO-17025-accredited metrology lab for instrument calibration and repair. Cole-Parmer responds with excellence to customer needs and offers application expertise and technical support. For more information, contact Cole-Parmer, 625 East Bunker Court, Vernon Hills, IL, 60061. In the US, call 1-800-323-4340. International customers, call 1-847-549-7600. Visit us at http://www.coleparmer.com.