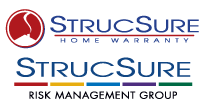 As a quality homebuilder that stands behind their work, StrucSure is pleased to welcome Tilson Homes into our program.
Denver, CO (PRWEB) September 23, 2015
StrucSure Home Warranty, one of the nation's largest providers of third-party new home warranties, is proud to add Tilson Homes to its list of builder members. As a new StrucSure member, Tilson Homes now offers their homebuyers warranty administration from StrucSure.
"As a quality homebuilder that stands behind their work, StrucSure is pleased to welcome Tilson Homes into our program," commented Jerry Thompson, CEO of StrucSure Home Warranty. "StrucSure shares in Tilson's dedication to a positive homebuying experience and is proud to offer Tilson homebuyers our warranty administration."
Tilson Homes has maintained a standard of superior construction and service in Texas for over 80 years and has built their reputation on reliability, quality, and value. "Tilson's quality-built homes coupled with StrucSure's warranty administration results in greater buyer confidence and satisfaction," said Eddie Martin, President of Tilson Homes and past president of the Texas Association of Builders. "We are proud to partner with an industry leader and offer new home warranty administration from StrucSure to our homebuyers."
About Tilson Homes: Tilson Home is a family-owned and operated company founded in 1932. They are a built on your lot custom homebuilder operating exclusively in Texas. Tilson has 11 sales centers located throughout the Houston, Bryan/College Station, Austin, San Antonio and Dallas/Fort Worth areas. Tilson customers can bring in their own home plan or get inspired from over 100 different home plans and change them to suit their needs. For more information on Tilson Home, visit http://www.TilsonHomes.com
About StrucSure Home Warranty: For more than 17 years, StrucSure Home Warranty has been providing builders, remodelers, and contractors with warranty products that deliver peace of mind. Our warranties protect our clients from expensive claims, liabilities, and legal fees and offers their clients peace of mind through third-party, insurance-backed warranty protection. Just like any risk management product, the hope is that you'll never need it, but when a problem emerges, you're glad you're covered! StrucSure Home Warranty is a member of StrucSure Risk Management Group which is comprised of StrucSure Home Warranty, LLC, StrucSure Insurance Services, Inc., Golden Insurance Company, RRG, and Four Points Re, SPC, Ltd.
Contact Adria Ellerbrock, Vice President of Marketing at (303) 806-8688 or visit http://www.strucsure.com and http://www.s-rmg.com for more information.