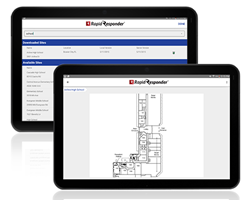 Now even more of your emergency staff can be rapidly engaged where ever they might be.
Kirkland, WA (PRWEB) September 22, 2015
Prepared Response, Inc.® announces the release of their Android App for Rapid Responder, the industry leading emergency preparedness and crisis management system. The Rapid Responder Android app is compatible with all Android tablets 4.0 or later and requires less than 1 gigabyte of storage space. The app comes at no additional charge for current and future customers and provides unique features that will help increase accessibility for the user. Previously, an iPad App was developed and released but the company has now expanded to meet customer demands by additionally catering to Android users.
"Now Android users can enjoy the same features and functionality that iPad users have experienced, thus furthering our product suite," says Timothy. P. Ainge, President and CEO of Prepared Response. "We can now ensure that crisis management information is available to all of our customers and first responders anytime, anywhere."
When opening the Android App for the first time, Rapid Responder users will be prompted to enter their Rapid Responder username and password. After clicking login, they will be brought to an interactive numeric pin page where they will set up a secure pin and then be able to download the same sites they have access to in Rapid Responder. Once a site is downloaded and ready to be used via the Android app, users will have continuous access to their emergency response information with or without the internet. The Android app is all about convenience with security, allowing a user to enter quickly but with only their pin when logging back on.
"By developing apps for mobile devices we are expanding the reach that emergency preparedness can provide for site users and emergency responders," says Larry Lowry, Director of Development for Prepared Response. "Now even more of your emergency staff can be rapidly engaged where ever they might be."
The Android app introduces a unique, updated interface that simplifies and enhances the availability of their emergency response data. If a site does not have any data listed in a certain category of Rapid Responder, that icon will be greyed out, signifying that there is no data to view. This gives responders and administrators easier accessibility to pertinent information during an emergency. The Rapid Responder Android app is completely integrated with the recently released Easy Alert feature and can be accessed by clicking the small, red alert symbol at the bottom of the page. All critical site information is available on the Android app including: emergency plans, contacts, maps, tactical, hazards, best access, staging, etc.
Rapid Responder is SAFETY Act certified by the U.S. Department of Homeland Security and puts critical building and site information at the fingertips of first responders, saving valuable time when every second counts. The system can be accessed via the internet, installed on a laptop, stored encrypted on a USB drive, and/or iPad and Android App. The emergency response and crisis management system has been used successfully in active shooter situations, bomb threats, lock downs and other emergency situations, across sites such as schools, hospitals, places of worship, and government buildings. It is currently deployed in over 16,000 facilities nationwide.
MEDIA CONTACT
FOR FURTHER INFORMATION, PLEASE CONTACT:
Prepared Response, Inc.
Samantha Caron
scaron(at)preparedresponse(dot)com
253.363.8561
ABOUT PREPARED RESPONSE, INC.
Prepared Response Inc. is the leading innovator of emergency preparedness and crisis management solutions in the nation. For over a decade, Prepared Response has provided industry leading technology and consulting services that have been proven to save lives and mitigate property damage. The company's flagship product, Rapid Responder, is used by over 1,300 public safety agencies nationwide and is SAFETY Act Certified by the U.S. Department of Homeland Security as a Qualified Anti-Terrorism Technology, along with being endorsed by the National Sheriffs' Association. Rapid Responder is currently deployed in educational facilities, public buildings, critical infrastructure and private facilities across the U.S.
The privately held company is headquartered in Kirkland, Washington. Additional information can be found at http://www.preparedresponse.com or by calling 1-866-862-7741.