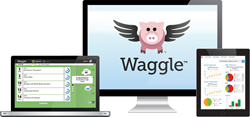 The students looked forward to Waggle every day and worked hard.
NEW YORK, NY (PRWEB) September 22, 2015
City Springs Elementary/Middle School in Baltimore saw significant academic gains among its students after using Waggle from Triumph Learning, producer of critically acclaimed K-12 texts and interactive digital tools. The smart practice solution utilizes productive struggle and in-the-moment instruction to provide students with challenging practice in a supportive environment to master mathematics and English language arts skills.
City Springs Elementary/Middle School is a high-poverty Baltimore City Public Charter School operated by the Baltimore Curriculum Project with 743 students in grades PK–8, 99 percent of whom utilize the free or reduced lunch program. After the school's first year using Waggle, they saw dramatic increases in the number of students meeting projected growth in Measures of Academic Progress® (MAP®) scores from the Northwest Evaluation AssociationTM, the school's interim assessment, over the prior year in reading and math. In reading, the percentage of students meeting projected growth increased 25 percent or more in every grade, for 2015 with Waggle compared to 2014 without Waggle. In math, the increase was more than 20 percent in every grade except grade 7, where there was a 13 percent increase.
Principal Rhonda Richetta noted that these were the highest gains that they have experienced to date and felt that Waggle played a significant role in the student outcomes.
"This was different from our previous online learning experiences," said Tiffany Key, third-grade teacher at City Springs. "The students looked forward to Waggle every day and worked hard. We saw significant improvement."
"City Springs is an excellent example of the success students can experience when working in Waggle and engaging in productive struggle," said Aoife Dempsey, CTO at Triumph Learning. "By being able to practice in an online environment that promotes persistence and rewards for effort and proficiency, students are mastering skills and becoming comfortable with more rigorous online assessments."
Based on this success, the school will continue to use Waggle as part of its daily instruction throughout the 2015-16 school year.
Learn more about City Springs' success with Waggle in this case study conducted by Interactive Educational Systems Design (IESD) at http://www.triumphlearning.com/research.html.
To learn more about Waggle, visit triumphlearning.com/waggle.
About Triumph Learning
Triumph Learning, LLC, is a leading educational content company and publisher of print and digital K-12 resources, standards-aligned instructional materials and effective literacy programs. Its state-customized products increased student achievement and raise scores on high-stakes exams for more than 6 million students in 36,000 schools in 2013 and 2014. Triumph Learning offers unique student solutions, robust teacher support, and professional development opportunities. Triumph Learning is committed to serving all students with a mix of interactive digital tools and innovative student texts with products such as Coach and Waggle. For more information, visit http://www.triumphlearning.com.
About NWEA
Founded by educators nearly 40 years ago, Northwest Evaluation Association™ (NWEA™) is a global not-for-profit educational services organization known for our suite of assessments, including our flagship interim assessment, Measures of Academic Progress® (MAP®), and Skills Navigator, a skills mastery and progress monitoring tool. More than 7,600 partners in U.S. schools, school districts, education agencies, and international schools trust us to offer pre- kindergarten through grade 12 assessments that accurately measure student growth and learning needs, professional development that fosters educators' ability to accelerate student learning, and research that supports assessment validity and data interpretation. To better inform instruction and maximize every learner's academic growth, educators currently use NWEA assessments with nearly eight million students. Learn more at nwea.org.