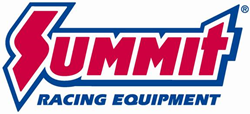 Tallmadge, OH (PRWEB) September 23, 2015
Owners of 2015 Mustangs are lucky--their cars are phenomenal right from the factory (especially in 5.0L form), and there are tons of parts available to make their Mustangs perform even better. Summit Racing has added even more 2015 Mustang upgrades, including these.
Corsa Xtreme Exhaust Systems
Corsa Xtreme Exhaust Systems have a straight-through, non-restrictive design to improve exhaust flow and free up horsepower. But unlike exhaust systems of yore, the Xtreme cat-back systems use Corsa's patented Reflective Sound Cancellation (RSC) technology to tune out annoying low frequencies. That means owners get an exhaust note custom-tuned to the vehicle—a deep growl at idle, aggressive under acceleration, and all-out at wide open throttle—without annoying drone at cruising speeds.
Ford Racing 627 HP Supercharger Kit
The easiest way to add big horsepower to a 2015 Mustang is by supercharging it with a Ford Racing 627 HP Supercharger Kit. Developed with help from Roush Performance, the kit will boost a 5.0L's power numbers up to 627 horsepower at 6,900 rpm and 540 lbs.-ft. of torque at 4,700 rpm. That's at a very safe 9 psi of boost on 93 octane pump gas.
ACT Clutch Kits
An upgraded clutch is a must for Mustang owners who have turned the power up past 11, do some drag racing, or enjoy track days. ACT Clutch Kits are SFI-certified and include a clutch disc, diaphragm style pressure plate, pilot bushing, and alignment tool.
Summit Racing Equipment
http://www.SummitRacing.com
1-800-230-3030