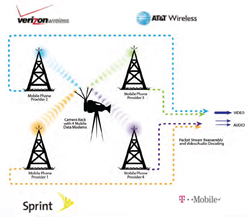 Irvine, California (PRWEB) September 22, 2015
VidOvation, a leading manufacturer of Video, Audio and Data Communications Systems announced today their support of live broadcast transmissions of the Historic Papal Visit of 2015 to Canal Plus of France and TV2 of Norway using AVIWEST DMNG 3G/4G Video Uplink Systems.
The pope's historic journey of ceremonies, parades and prayer gatherings in the U.S. will present challenges for live video acquisition. Whereas some broadcasts have diverse focal points, this event strictly concentrates on the pope. A mass of followers will presumably trail the pope's course to Washington D.C, New York and Philadelphia, uploading their own videos along the way, effectively turning the pope's location into an epicenter of 3G/4G cellular congestion.
Under these conditions, only the most robust 3G/4G digital mobile news gathering systems will be able hold a reliable connection and transmit live video seamlessly controlled from headquarters. AVIWEST's ENG solution enables broadcasters to capture and broadcast live HD video over multiple networks, including bonded 3G/4G cellular wireless, Wi-Fi, Ethernet, and satellite. Using a sophisticated proprietary cellular bonding algorithm and antenna array design, the DMNG PRO180 can make stronger connections to nearby cellular towers as well as reach distant towers.
Getting live video out from tough locations and transmitting across the planet is precisely the challenge the DMNG PRO180 handles. VidOvation is proud to bring these solutions to the United States to offer the American broadcast market a higher standard of 3G/4G bonded cellular video uplinks. Additionally, existing European & foreign broadcasters who already use AVIWEST systems continue to take advantage of VidOvation's rental services.
VidOvation has always been at the forefront of video communications and broadcast technology with a proven record for remarkable video broadcast transmission solutions. Recognizing the need for a better class of cellular bonding 3G/4G video uplink systems, VidOvation turned to AVIWEST technology to help U.S. broadcasters deliver crystal-clear video over cellular wireless networks despite network conditions for covering breaking news and live events.
-###-
About VidOvation
VidOvation – Moving Video Forward, is a leading manufacturer of Video, Audio and Data Communications Systems to the Broadcast Television and Sports, Corporate AV, and Government markets with 50 years combined experience. They help with the frustrations of dropouts, latency, interference, noise, and security issues with video transmission. VidOvation can meet almost any application or budget with their Wireless Video, Video Streaming, Video Networking and Fiber Optic Communications Systems. The company excels in helping its clients integrate custom solutions into existing infrastructure. They have proven expertise to help clients from start to finish – from project consulting and management, to engineering and design, to warranty and support. Learn more at vidovation.com or call +1 949-777-5435.
All trademarks appearing in this document are property of their respective owners.