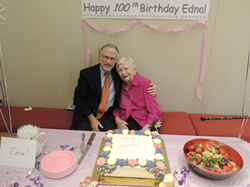 New York, NY (PRWEB) September 24, 2015
Twenty years ago, Edna Fishman was reading The Jewish Week and came across a small ad for Mr. Gu's exercise class at DOROT. Ever since then, Edna has been a regular at Mr. Gu's weekly classes and other Wellness programs offered at DOROT. Edna has also participated on DOROT's Advisory Board, in Senior Café and in many other Wellness classes. In fact, over the past ten years, Edna has logged over 1,700 hours of classes.
Edna recently celebrated her 100th birthday in DOROT's auditorium with Mr. Gu, her classmates and DOROT staff. At the party, Edna shared her secrets to longevity, including a nice kosher diet, good genes and her weekly exercise class.
DOROT's Executive Director, Mark Meridy, explained that Edna "truly embodies DOROT." "She has been coming to DOROT for many years, bringing friends and many donors. We are so grateful for Edna and hope to spend many more wonderful years with her at DOROT."
DOROT is a NYC-based Social Services Agency that focuses on alleviating social isolation in seniors. DOROT offers a variety of programs and services to homebound and frail elders. For more about information about DOROT or DOROT's Wellness Classes, please visit our website: http://www.dorotusa.org or contact Karen Fuller at 917-441-3702.