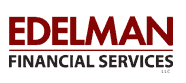 Fairfax, VA (PRWEB) September 23, 2015
Ric Edelman, Chairman and CEO of Edelman Financial Services, now serves as a regular contributor for Inc. magazine's web site Inc.com, adding to his list of credentials. Inc. magazine is the award-wining source for entrepreneurship, small business and innovation.
Three times ranked the #1 Independent Financial Advisor in the nation by Barron's,(1) Edelman offers advice and insight to business owners on financial strategies, management and leadership from lessons learned as an entrepreneur. His column draws off his experience from founding his company more than 27 years ago to leading it to its present status as one of the largest independent financial planning firms in the nation.(2)
"Owning a business is a unique opportunity with varying components, from managing your team to making smart financial decisions that will benefit your company, clients and employees," said Edelman. "When my wife and I started our company, there were plenty of things I was unsure of and there were many lessons learned that I'm thrilled to share with entrepreneurs through this new opportunity with Inc.com."
Edelman's column adds to his many established mediums of education. In addition to his award-winning, 16-page monthly newsletter and comprehensive website, Edelman is a #1 New York Times best-selling author with eight books on personal finance that have been translated into several languages. He also hosts a weekly radio show, The Truth About Money with Ric Edelman, which airs across the country. A trusted financial advisor, Edelman frequently contributes his expertise and insight to the media. He is also a sought-after speaker for major industry events and teaches seminars on financial topics throughout the country.
To read Edelman's column on Inc.com, please visit http://www.inc.com/author/ric-edelman. To learn more about Edelman Financial Services, please visit http://www.edelmanfinancial.com.
About Ric Edelman
Ric Edelman is Chairman and CEO of Edelman Financial Services. Providing financial advice for more than 27 years, Ric hosts weekly radio and television shows that air nationwide. He is also a #1 New York Times best-selling author, who has published eight books on personal finance. His latest book, The Truth About Retirement Plans and IRAs, is a #1 national bestseller.(3) In addition to being an acclaimed public speaker, Edelman frequently provides his expertise to major national media, including CBS, FOX, CNN, CNBC, The Wall Street Journal, The New York Times, Family Circle, Reader's Digest and many more. He is also a member of the CNBC Digital Financial Advisor Council. Edelman Financial Services manages more than $15 billion for more than 28,000(4) individuals and families, with 41 offices coast-to-coast, and has won more than 100 business, advisory, communication and community service awards.(5) Visit Ric online at EdelmanFinancial.com.
About Inc. Media
Founded in 1979 and acquired in 2005 by Mansueto Ventures, Inc. is the only major brand dedicated exclusively to owners and managers of growing private companies, with the aim to deliver real solutions for today's innovative company builders. Winner of Advertising Age's "The A-List" in January 2015, and the National Magazine Award for General Excellence in both 2014 and 2012. Total monthly audience reach for the brand has grown significantly from 2,000,000 in 2010 to over 13,000,000 today. For more information, visit http://www.inc.com/.
Ric Edelman, Chairman and CEO of Edelman Financial Services LLC, a Registered Investment Advisor, is an Investment Advisor Representative who offers advisory services through EFS and is a Registered Principal of and offers securities through SMH. Advisory Services offered through Edelman Financial Services LLC. Securities offered through Sanders Morris Harris Inc., an affiliated broker/dealer, member FINRA/SIPC.
(1)According to Barron's, "The formula [used] to rank advisors has three major components: assets managed, revenue produced and quality of the advisor's practice. Investment returns are not a component of the rankings because an advisor's returns are dictated largely by each client's risk tolerance. The quality-of-practice component includes an evaluation of each advisor's regulatory record." The rankings are based on the universe of applications submitted to Barron's. The selection process begins with a nomination and application provided to Barron's. Principals of Edelman Financial Services LLC self-nominated the firm and submitted quantitative and qualitative information to Barron's as requested. Barron's reviewed and considered this information, which resulted in the rankings on Aug. 27, 2012/Aug. 28, 2010/Aug. 31, 2009.
(2) Wealth Management.com's 2014 Top 100 RIAs are ranked by assets under management based on data from Meridian-IQ. For each firm, at least 10% of clients are high-net-worth, and at least 10% are not but get financial planning; institutional clients cannot comprise a substantial part of the business. Investor returns were not considered. Edelman Financial Services ranked 3rd.
(3) The Washington Post, April 20, 2014
(4) As of 6/30/15
(5) Throughout the firm's 27 year history, EFS and Ric Edelman have been presented with more than 100 business, advisory, communication and community service awards. A complete list of awards won can be requested by contacting the firm at (888)-PLAN-RIC.