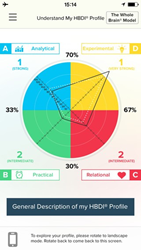 This is a great tool for helping people get more deliberate about their thinking. It makes it easier for people to take back control of their brains in a world full of distractions and complexities. – Ann Herrmann-Nehdi
Lake Lure, NC (PRWEB) September 23, 2015
Herrmann International announces the release of the HBDI® App for iOS and Android devices, an interactive reinforcement tool that allows the more than two million thinkers who have completed the Herrmann Brain Dominance Instrument® (HBDI®) assessment to access, apply and share their thinking preferences from the convenience of their smartphones.
"This free app is a natural extension of our Whole Brain® Thinking and Learning philosophy," says Karim Nehdi, Herrmann International's Group Head of New Ventures. "By giving people easy access to their personalized thinking preference results, along with in-app tips for everyday application and the ability to share their thinking with friends and colleagues, it engages their brains and provides continual value—at work, at home and everywhere they go."
Key features of the app, available now in the Apple Store and Google Play, include a section for exploring your thinking preferences, including how you think under stress; the ability to create guesstimated profiles of clients, colleagues and others; tips and tricks for practicing using your Whole Brain; and the ability to email your HBDI profile and instantly post it to Facebook, Twitter and LinkedIn. Future versions of the app will include the ability to explore HBDI Pair and Team profiles, as well as new processes, tools and games to improve thinking. Anyone can download the HBDI App, but only those who have completed the HBDI assessment will be able to log in and access an HBDI profile.
"Our more 30 years of research has proven that when you apply Whole Brain Thinking, you get better results in everything you do," says Ann Herrmann-Nehdi, Herrmann International's CEO and co-author of The Whole Brain Business Book, Second Edition. "This is a great tool for helping people get more deliberate about their thinking. And, by keeping thinking top of mind, it makes it that much easier for people to take back control of their brains in a world full of distractions and complexities."
Herrmann-Nehdi adds that, as one of the first assessment apps available in the market, the HBDI App reinforces the company's reputation as a groundbreaker and innovator in the realm of understanding and nurturing talent. Herrmann International founder Ned Herrmann pioneered the study of the brain in the field of business more than three decades ago.
Developed specifically for business use, the HBDI is a validated brain-based assessment that measures a person's thinking preferences against the Whole Brain® Model, a framework of four interconnected cognitive systems that characterize the way we think. While people tend to prefer certain ways of thinking over others, the model shows that everyone has access to their Whole Brain and can adapt their thinking as necessary to get better results. The thinking preferences of people, teams, organizations, text, processes, ideas and other information can all be mapped against the model.
To learn more about the HBDI App for smartphones, go to: http://app.hbdi.com/. View a video walk-through of the app at: https://youtu.be/O7ExOK80k6g
About Herrmann International
For more than three decades, Herrmann International has been at the forefront of the most progressive research exploring the connection between thinking preferences and business results. With its pioneering Whole Brain® Thinking approach, the company has turned this knowledge into practical, easy-to-apply training programs, tools and methods that help clients increase their thinking agility so they can achieve exponentially higher results. More than 70% of the Fortune 500, including 9 out of 10 of the Fortune 100, rely on Herrmann International's thinking style assessments and learning methods to help them build their competitive advantage. More information: http://www.herrmannsolutions.com