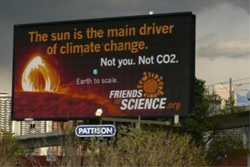 it would cost more than $11 billion to phase-out coal, not to mention hundreds of millions in compensation
Calgary, Alberta, Canada (PRWEB) September 23, 2015
In addition to their comprehensive submission to the Alberta government, Friends of Science Society has issued a video arguing that the lack of financial context in Alberta Climate Change discussions could lead to poor decisions. Friends of Science says citizens cannot make informed decisions about the possible energy mix of 'clean-tech' like wind and solar, versus natural gas and coal, if they don't know the costs and consequences. Alberta presently has no electric utility debt; Ontario's is $44 billion. [LINK: energy.alberta.ca/Electricity/pdfs/ElectricityQuickCard.pdf]
Friends of Science says those with vested interests in renewables are skewing traditional investment markets, and carbon taxes or cap and trade will force Albertans into heat-or-eat poverty, like in the EU and UK as reported Jan. 3, 2014 in E&E News.
According to a report in the Calgary Herald of Sept. 11, 2015, it would cost more than $11 billion to phase-out coal, not to mention hundreds of millions in compensation. In the Herald article, Environment Minister Phillips reportedly said the Alberta government will be looking at renewables as a replacement power source, but Friends of Science say renewable power generation costs are exorbitant, citing the Ontario experience as reported in an opinion piece by economist Ross McKitrick and energy critic Tom Adams in the Financial Post Oct. 29, 2014. Even Google engineers say renewables won't work as reported in The Register, Nov. 21, 2014.
In a Nov. 3, 2013, opinion piece on Forbes, Larry Bell argued that the costs of carbon regulations on small businesses were exorbitant, while anti-carbon crusaders like Al Gore get rich.
Responding to a press release issued Sept. 8, 2015 by NEI Investments, Friends of Science Society says the group of some 120 institutional investors claim to see opportunity for investment in Alberta as conditional on new climate regulations.
Friends of Science point to comments by Joseph Dear, then financial officer for CalPERS, California Public Employees' Retirement System, then the sixth largest investment fund in the world, who called clean tech an "L for Loser" investment in a report by the Wall Street Journal of March 25, 2013.
In the article, Dear said clean-tech was "a noble way to lose money" noting that since 2007, CalPERS had invested some "$460 million [which] had an annualized return of minus 9.7% to date." Dear was sharply critical of the losses and noted the only way to get a return was "somebody has to step in and (….) raise the price of carbon." Carbon trading relies on the Renewable Energy Certificates generated by 'renewables' like wind and solar, hence the push for renewables and carbon taxes/trades by institutional investors, but climate change carbon policy critics like Bjorn Lomborg say it only makes the people poor, as reported in The Spectator, April 5, 2014. [LINK: spectator.co.uk/features/9176251/let-them-eat-carbon-credits/]
Friends of Science says the sun is the main driver of climate change, not carbon dioxide. Despite a rise in carbon dioxide emissions, global temperatures have flat lined far below IPCC model projections for the past 18 years and 8 months, therefore based on the evidence, carbon taxes and trade are ineffective and unnecessary.
About
Friends of Science Society has spent a decade reviewing a broad spectrum of literature on climate change and have concluded the sun is the main driver of climate change, not carbon dioxide (CO2). Friends of Science welcomes earth, atmospheric and solar scientists, engineers and citizens who challenge the alleged consensus on climate change.
Friends of Science Society
P.O. Box 23167, Mission P.O.
Calgary, Alberta
Canada T2S 3B1
Toll-free Telephone: 1-888-789-9597
Web: friendsofscience.org
E-mail: contact(at)friendsofscience(dot)org