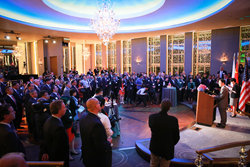 As the most critical subsidiary tasked with realizing CSCEC's internationalization strategy, CCA started from scratch, made solid progresses over the years and became a top contractor and a multinational company with 98% of its employees hired locally.
Jersey City, NJ (PRWEB) September 23, 2015
China Construction America (CCA), the largest overseas subsidiary of China State Construction Engineering Corporation Ltd. (CSCEC) held its 30th Anniversary Client Appreciation Dinner Reception at the Rainbow Room atop 30 Rockefeller Plaza in Manhattan, New York in the evening of Sep. 21. Approximately 300 guests attended the event, including government officials, business leaders and those who have long been advocates for positive and construction US-China relations.
Ambassador Zhang Qiyue, Chinese Consul General in New York, Perry G. Christie, Prime Minister of The Bahamas, Ma Weihua, Chairman of Wing Lung Bank, and Andrew L. Farkas, Chairman of Island Capital Group spoke at the event. CSCEC Chairman Guan Qing and CCA President Yuan Ning extended appreciation to the guests and those who are unable to be present. Attendees also included Obediah H. Wilchcombe, Minister of Tourism of The Bahamas, Z. Allyson Gibson, Attorney General and Minister of Legal Affairs of The Bahamas, Baltron Bethel, Senior Policy Advisor to the Bahamian Prime Minister, Elliston Rahming, Bahamian Ambassador to the United Nations, Forrester Carroll, Consul General of The Bahamas Consulate in New York, Liu Yi, Commercial Counselor of the Chinese Consulate General in New York, and renowned Chinese and American business leaders. James Simpson, Senior Advisor to CCA Chairman Yuan Ning and Director of the Board, former Commissioner of New Jersey Department of Transportation hosted the reception.
Ambassador Zhang Qiyue applauded CCA's 30 years of perseverance and hard work to embody the Chinese government's "Go Global" strategy and congratulated CCA on its achievements. She commented that CCA's experience would be valuable for other Chinese companies exploring business opportunities overseas, and its localization strategy, which combines eastern and western culture, has resulted in a unique competitive edge drawing upon the advantages of both nations. Ambassador Zhang was impressed by CCA's commitment to long-term partnership and integrity, which is a major contributor to CCA's success and a must-have quality to withstand the challenges in foreign markets. She also recognized CCA's efforts on enhancing communication among Chinese companies in the US.
Prime Minister Perry Christie congratulated CSCEC and CCA on its 30th anniversary and expressed his gratitude for their contribution to the Bahamian economy. "I am indeed grateful to China Construction for seizing the opportunity along with other notable international investors to invest in The Bahamas. They are partnering with the government on initiatives that would help us to achieve our objectives of creating opportunities for growth and improving economic livelihood for Bahamians,'' said Prime Minister Christie. He pointed out that over the past few years they have seen CCA's adherence to quality and multi-win mindset. With its expertise and visionary management, he believed, CCA will be even more successful in North and South America and the Caribbean. In his speech Mr. Christie also expressed his high expectations for The Pointe, a world-class lifestyle and residential development that is invested and will be developed and built by CCA.
Mr. Ma Weihua acknowledged that CCA's achievements did not happen overnight. The experience it has accumulated over the years provides invaluable insights for other Chinese companies. He said, "Chinese companies are still faced with all kinds of challenges in their international expansion. A large percentage of Chinese companies failed in the process due to their inability to adapt to foreign market. We need government support. We need market support. And we need financial institutions to participate. We also need to learn new knowledge and potential risks. Most importantly, we need to have entrepreneurial spirit which is comprised of the ability to make and implement strategies that evolve, an enterprising mindset, the commitment to integrity and the responsibility to give back. We can see the spirit in CSCEC and CCA. This spirit is key to the success of Chinese entrepreneurs."
CSCEC Chairman Guan Qing attended the event during his trip accompanying Chinese president Xi Jinping's state visit to the US. He thanked the guests for their support of CCA over the past three decades. "Success is the result of people working together. Our achievements in the US market would be unattainable without the support from the Chinese government and the governments of our host countries, the involvement of financial institutions, the trust of our clients, the collaboration of our partners and the dedication of our employees," said Mr. Guan. CCA's 30-year development is a brief history of CSCEC's international expedition. With our determination and evolving strategies, CSCEC has always been exploring new ways to succeed internationally. Mr. Guan said: "As the most critical subsidiary tasked with realizing CSCEC's internationalization strategy, CCA started from scratch, made solid progresses over the years and became a top contractor and a multinational company with 98% of its employees hired locally. From constructing buildings for Chinese diplomatic missions to undertaking projects for Chinese companies operating overseas, from providing turn-key construction solutions to public and private clients to participating in projects through investment and financial consulting, CCA has opened a remarkable path to continue expanding and diversifying its business and partnering with American companies to explore opportunities overseas."
In his welcome remarks, CCA President Yuan Ning expressed his gratitude to CSCEC and Chairman Guan for their trust in CCA. He also attributed CCA's success to its localization strategy and the support from the local communities. "In Chinese, we have an old adage, 'a person should stand firm at the age of thirty,' meaning that when you are thirty, you should have set the right course for your success, be strong enough to take on challenges and keep your eyes on the prize. After 30 years of hard work and perseverance, I am proud to say that CCA is more than just standing firm," said Mr. Yuan. When talking about CCA's future goals, Mr. Yuan said that CCA will continue to expand its construction business while increasing its real estate investment. The company will push forward the vision of becoming CSCEC's regional headquarters supported by six centers, including the capital operation center, high-end business center, international procurement center, talent and training center, IT center as well as innovation and R&D center, so as to help CSCEC better mobilize its global resources to bring its international business to the next level. US is leading the world as the global financial and technological center. Chinese companies should make full use of this market and its reliable legal environment to build up their talent pool, technology competencies, management skills and brand value, which is the real value of investing in the US.
About CCA
Established in 1985, CCA is the wholly owned subsidiary of China Construction Engineering Corporation Ltd. (CSCEC) in the Americas. It is also CSCEC's largest subsidiary outside of China. With its revenue totaling $2 billion in 2014, CCA ranked no. 32 on ENR Top 400 Contractors list and no. 23 on ENR Top 100 Construction Management-at-Risk Firms list. As one of the earliest Chinese companies exploring business opportunities overseas, CCA has become a major player in the US infrastructure and high-end building market with diverse talent after 30 years of hard work and perseverance. Leveraging financial instruments and innovative business models, CCA has brought CSCEC's internationalization strategy into a new level.
CCA has sustained an annual growth rate of over 40% for nearly a decade. The closing of CSCEC's first overseas acquisition in 2014 has doubled CCA's operations and enhanced its business presence in the US construction industry. CCA Panama was opened in 2015, marking CCA's expansion into the Latin American market. It has secured its first project in Panama, Esperanza, a design-build public project which broke ground in September. The real estate business in also on the rise. Having invested about $800 million in the past three years, Strategic Capital, CCA's investment arm, just launched the third phase of the Hudson Park development on the Yonkers waterfront.
About CSCEC
CSCEC is the largest construction and real estate company in the world. With its revenue reaching $130 billion in 2014, CSCEC ranked no. 37 on Fortune 500 and no. 1 on ENR Top 250 Global Contractors list. Adhering to its core values—Quality Assurance and Value Creation—CSCEC is committed to expanding happiness for all and building a better world.