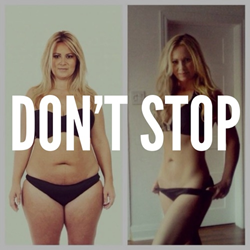 Briana Christine is known globally as the inspirational and highly-relatable "DON'T STOP" mom of three who has empowered women around the world through her Bikini Body Mommy™ platform
(PRWEB) September 24, 2015
Remaining real, transparent, and relatable Briana plans to utilize the personal experience of her current pregnancy to leave no controversial stone unturned as she directly address issues pertaining to all things pregnancy, including: overall health, nutrition, positive body-image, self-esteem, weight-gain, stretch-marks, etc. http://www.bikinibodymommy.com
Briana Christine has spent the last 2 years not only taking on her own total body transformation, but also motivating and inspiring millions of women around the world toward a healthier lifestyle. She is known globally as the inspirational and highly-relatable "Don't Stop" mom of three who has empowered women around the world through her Bikini Body Mommy™ platform and Free 90 Day Workout series on YouTube.
Briana just announced that she is pregnant and due early 2016 with her 4th child. Her YouTube announcement received over 20k views and her Facebook page announcement received over 324,000 views, 7k likes, 757 comments and 72 shares in just the first 48 Hours Alone!
Since founding Bikini Body Mommy™ in 2013, Briana has continually inspired millions of other women around the world everyday by making it her mission to connect, inspire, and transform others through the integration of the same fitness, nutrition and behavioral changes she had adapted throughout her own transformation journey. http://www.bikinibodymommy.com
Beginning October 15th, 2015, as part of the Bikini Body Mommy™ Pregnancy Platform, Briana will be releasing a 40-Week "Real Time" Pregnancy Workout Series week-by-week (throughout the course of her own pregnancy) with safe yet challenging Pregnancy Specific Workouts every woman can follow.
Briana's new membership platform, only live for 9 weeks, already has 71, 217 active members and an astounding 658,000 views in just the last 30 days. Briana has inspired a global online movement embraced by hundreds of thousands of followers every day. People all over the world want to captivate her inspiration, motivation and commitment.

YouTube: 4.75 Million Views/ 62,000 Subscribers
Facebook: 221,000 Followers
Instagram: 155,000 Followers
Twitter: 6,000+ Followers
Pintrest: 20,000 Followers
Briana has been featured on The Dr. Oz Show, The Huffington Post, Shape, Her Sports + Fitness, Blick am Abend and Women's World! With a global community of millions of followers, Briana's inspiring personal slogan "Don't Stop" has encouraged people around the world to stand up and take action. Will you be next? http://www.bikinibodymommy.com
About Briana Christine
Briana first catapulted into the health and fitness industry in early 2007, after making an initial decision to hire a personal trainer to help her transform her own body ultimately lead to Briana losing 73-pounds in less than six months. This weight loss experience had a profound impact on Briana's life and this led her to pursue a career as a certified personal trainer. Briana is the founder of the multifaceted global health & fitness company Bikini Body Mommy, Inc.
Despite being a Personal Trainer, Briana's Bikini Body Mommy physique completely fell to the wayside after giving birth to her third child in mid-September 2011. Weighing the heaviest of her life (100 pounds heavier) Briana made it her mission to lose the postpartum pounds and re-transform her body in record time.
Documenting the entire process behind her second transformation, Briana ultimately lost 100 Pounds in under a year, wrote her bestselling book the Bikini Body Mommy Blueprint, founded Bikini Body Mommy, Inc. and launched her Free 90 Day Bikini Body Mommy Challenge, as a platform to not only share her personal journey, but also to help educate and motivate other mothers around the world to transform their Own bodies & lives along the way!
Briana enjoys her life with her fiancée Jason, and her three children Tristen, Parker and Finnley.
For Media Inquiries and Brand/Product partnerships contact Robyn Stevens 856-298-9820 prmedia(at)live(dot)com