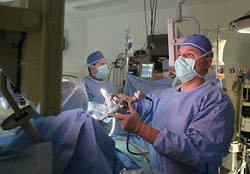 (PRWEB) September 24, 2015
One of the world's smallest 3D surgical instruments has earned top honors from the Federal Laboratory Consortium for Technology Transfer Far West Region (FLC), a nationwide network of more than 300 leading government-run labs that count NASA Johnson Space Center, the National Institutes of Health and Los Alamos National Laboratory among its members. MARVEL (Multi Angle Rear Viewing Endoscopic tooL) is the result of a collaboration between internationally renowned brain surgeon Hrayr Shahinian, M.D., a pioneer in minimally invasive brain surgery, and JPL. (JPL is a division of the California Institute of Technology and a Federally Funded Research and Development Center (FFRDC) of the National Aeronautics and Space Administration (NASA).)
MARVEL captures and displays 3D images of the brain, enabling surgeons to perceive depth and "peek around corners" that, until now, have been off limits. These images allow surgeons to perform procedures safer and more precisely than with existing instrumentation resulting in better outcomes and lower costs for both hospitals and patients. For JPL, the technology will offer a new capability to perform proximity stereo imaging for planetary exploration.
The instrument was developed in the Microdevices lab at JPL, but has not yet been tested in clinical trials
Shahinian and JPL were presented with the Outstanding Technology Transfer Professional Award, one of 5 categories that Far West FLC recognizes each year. (The FLC, whose mission is to encourage government & private sector collaborations that benefit the public, was formally chartered in tandem with the Federal Technology Transfer Act of 1986.)
The introduction of MARVEL marks the latest development in a move away from the more traditional open craniotomy. That relatively dated procedure favored by neurosurgeons involves removing large sections of skull to reach problem areas. More than 98% of brain surgeries in the U.S. are performed using the outdated open craniotomy, which is costlier to perform than endoscopy and results in longer hospital stays and ongoing rehabilitation.
Shahinian, medical director and founder of the Skull Base Institute in Los Angeles, started his minimally invasive endoscopic work more than 2 decades ago and has since performed more than 6,000 surgeries of this type to remove pituitary and pineal tumors, meningiomas and acoustic neuromas as well as treat other conditions like hemifacial spasm and trigeminal neuralgia. He has published dozens of peer-reviewed papers and a textbook on the subject and is considered to be on the vanguard of minimally invasive brain surgery. The validity of this approach has stood the test of time and many top medical centers are only just now adopting Shahinian's techniques including the Mayo Clinic, UCLA, USC, Johns Hopkins and others.
In addition to its medical and aerospace applications, MARVEL is expected to benefit other industries like engineering, automotive, oil, etc.
For more information, call the Skull Base Institute at (310) 691-8888 or visit http://www.skullbaseinstitute.com.
*****